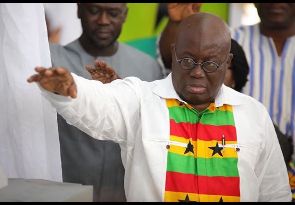 The recent spate of armed robbery in the country is totally "unacceptable", President Nana Addo Dankwa Akufo-Addo has said.
He has, therefore, promised to work to ensure that Ghanaians are able to go about their daily duties without fear or panic.
"I want to make this clear: no miscreant will have the space to terrorise citizens and generate a sense of insecurity in our country," Nana Akufo-Addo said at the 61st Independence Day anniversary celebration at the Independence Square in Accra on Tuesday, 6 March 2018.
The police, he said, "have the primary responsibility of maintaining peace and keeping law and order in our society, and, in exceptional cases, with the backing of the armed forces. The government is doing, and will do whatever it takes to enable the police discharge their duties effectively. We are providing the means for them to modernise their equipment and learn modern methods of policing, and the numbers will be rapidly increased to match our growing population, and sophistication and audacity of the criminals.
"We should not forget that the police need the help and support of the community to be able to do their work. We dare not lose our reputation as a haven of peace and security. I urge you all to join in making sure there is no hiding place in our midst for those who would disturb our peace. For my part, I will do whatever is necessary, within the confines of the constitution and the laws of the land, to ensure the peace of our country."
Nana Akufo-Addo's comment comes in the wake of several armed robberies and murders in the last few days in various parts of the country.
Source: otecfmghana.com