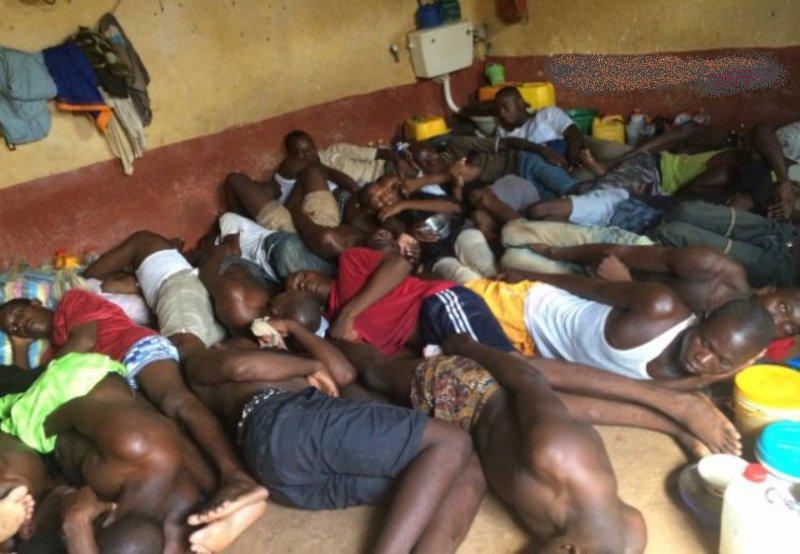 Ventilation in Ghana Prisons is very poor, it is extremely difficult for inmates to get water to bath. Many of the inmate's bath once in two or three days. A few people who have been in prison for long or have money to pay are able to bath twice daily or even once every day.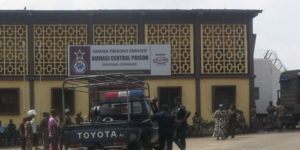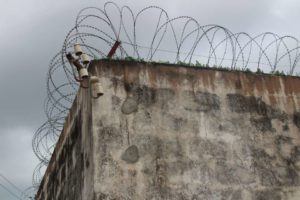 Sometimes the taps doesn't flow and the prisons authorities have to resort to the services of Mobile Water Tanker, which comes with a cost. The same water serves every need in the prison.
Let's talk about our toilets.
In this modern era, the Kumasi Central Prisons in Adum still uses squat holes. Inmates squat astride the holes adjacent each other to ease themselves. Sometimes the maggots that take over the place are a sight no one should see. But that's what inmates have to contend with.
Inmates are made to evacuate the faeces when the manhole is full and the sanitation vehicle is not available. They open a certain channel and poor water on it, push it and allow it to run through the gutters of Adum. This usually happens in the nights on Saturdays and Sundays. The inmates do these using shovels with bare hands. During those hours, residents of Adum will testify to the bad stench that engulfs Adum.
Ghana's prisons are overcrowded by 45.5 percent, according to statistics provided by the Ghana Prisons Service, June 2016.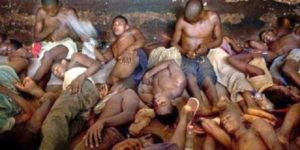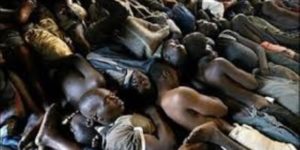 Inmates sleeping  on the bare floor
According to the data, Ghana's had a total inmate population of 14,368, when it is only authorized to accommodate a population of 9,875.
Out of the population, only 11,684 have been convicted while the remaining 2,684 are on remand.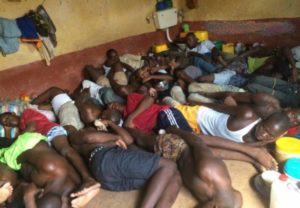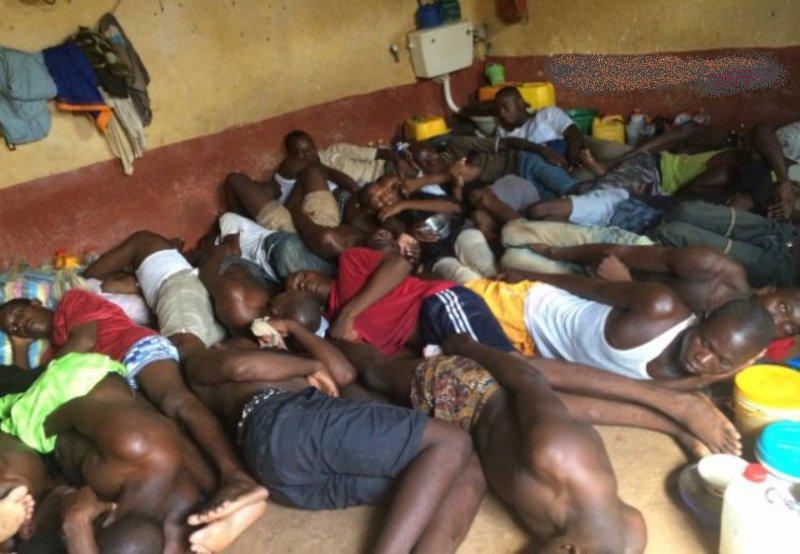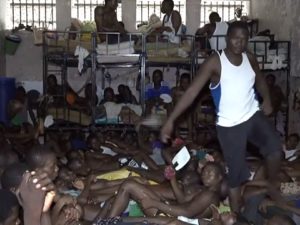 This is how they sleep
Rev. Dr Stephen Yenusom Wengam, former Chairman of the Ghana Prisons Service Council, in June 2016 25 revealed that, Ghana's prisons are in a deplorable state and need both state and private support to turn things around.
He noted that the situation makes it daunting for the prisons to effectively deliver on its reformatory mandate. As a result, inmates who are committed to prison sentences come out hardened than they were, before going to prison.
Some of these ex-convicts, he noted, have come out to commit more heinous crimes and continue to be a threat to society.
"In Kwabenya Police jailbreak in January 2018 that resulted in the death of the Monitoring Inspector, Inspector Emmanuel Ashilevi, four of the breakers were ex-convicts," he said
He mentioned that in some parts of the world, prisons have become easy recruitment centers for extremists, who infiltrate the facilities to radicalize the inmates, adding that it was dangerous for Ghana to keep its prisons the way they currently are.
"Until we commit resources to our prisons, no Ghanaian is safe," he told OTEC NEWS.
The inmates are exposed to all form of health conditions due to poor sanitary conditions.
Where they cook their food is extremely dirty, the people who cook the food are very dirty, palm fruits are left to rot, yet they will still use it to cook, under the detriment on their health.
It is strange that there have not been any disease outbreaks like tuberculosis and diarrhea in the house.
When the prisoners are lock up at 5 pm, the stench that comes out after thirty minutes can make one sick.
It is not as though the inmates cannot clean their rooms but there are unavailability cleaning detergents provided by the government, corporate entities and other philanthropists, which according to some ex-convicts who spoke to Otec News, are shared among the Prison officers.
"Some time ago, about twelve drums of liquid soap were given to the prisons. A few days later, we went to ask for liquid soap for cleaning, we were told it was finished. I believe the storekeeper and other officers had shared them and taken them home," the ex-convict added.
So thievery by the officers is largely to be blamed for the poor sanitation in the prisons.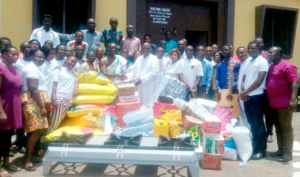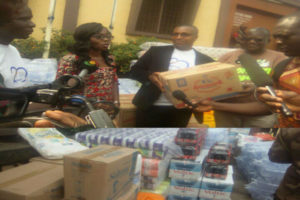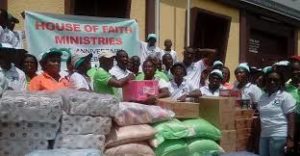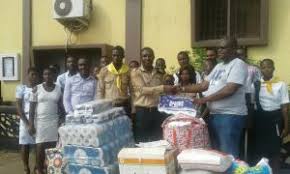 Some of the civil societies donating to the Inmates
This series of event is the real-life experience of a young Ghanaian man who was sentenced to jail term of four years in the Kumasi Central Prison for a crime he never committed.
He received a presidential pardon, after serving two years and twenty days of his sentence in 2017.
This series of event seeks to bring to the fore occurrences within the prisons system that are mostly counterproductive to the correction of inmates and also highlight some of the inhuman treatments that occur among a host of challenges that bedevil the prisons.
Speaking to Otec News in the condition of anonymity, a Prison Officer explained that public has disregarded the Service because they believe prisoners are criminals who deserve severe punishments.
"Our plight (inadequate resources) is known to the public, we keep telling what has been happening to the prisoners. It's just that I want to believe it's the mindset of the public who think anybody in prison custody is a criminal and should not be given attention," he added.
"The various prisons are unable to separate those on remand from convicted prisoners because the facilities are not enough to support such interventions. If we can separate them, I believe the issue of decongestion resulting to poor health among the inmates can be minimized," he suggested.
Source: otecfmghana.com/ John Antwi Boasiako