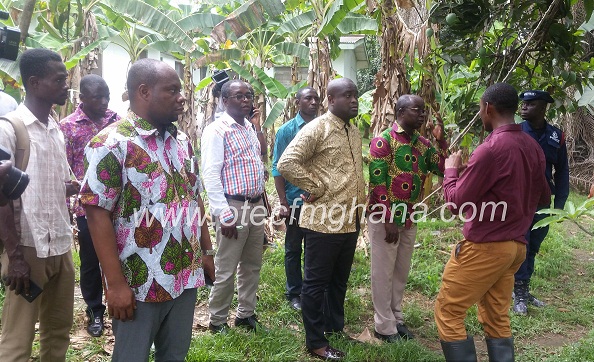 The Kumasi Metropolitan Assembly (KMA) in its efforts to avoid flooding of the city during rainy seasons has deployed preparations and plans to save the situation by desilting and dredging rivers and streams that cause the flooding.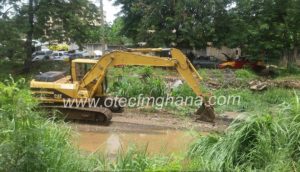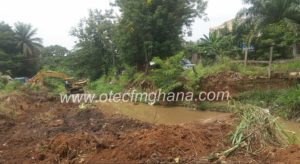 It is also poised to demolish all structures built on and near waterways for easy flow of water during the rains and to save lives and properties.
To monitor the situation, the Metropolitan Chief Executive (MCE) of the Assembly, Hon. Osei Assibey Antwi, accompanied by officials of National Disaster and Management Organization (NADMO), the Metro Engineer, Nana Atta Opoku and some Assembly members, on Wednesday, April 4, 2018, embarked on a tour of flooded prone areas to access the level of work being done.
Some areas visited included the river Danyame at South Suntreso, on the Bekwai roundabout – Santasi road and river Koradaso, at TUC junction, where excavators were busily desilting, dredging and widening the paths of the rivers.
Briefing the media after the tour, the Mayor, Hon. Osei Assibey Antwi said the exercise was to prepare themselves against any eventualities that might befall the city through flooding caused by the rain.
"We will not wait till it rains before we start the precautionary methods to avert the flooding. We all saw last year what flooding caused those residents living in those areas, lives and properties running into millions of cedis were lost, and this should not happen again. That is why we are dredging the Koradaso and Danyame rivers, the two most flooded areas in the city, and widening their paths for easily flow during the rains," he said.
"We have also identified all the flooded prone areas in the city, we will make sure those areas are well prepared for the rains by desilting their drainages," he added.
The Mayor reiterated the Assembly's commitment to ensuring that all structures built on waterways are being demolished to prevent flooding that leads to loss of lives and properties.
"We were able to pull down some of the structures built on waterways last year, and that will continue this year. With the help of NADMO and Town and Country Planning, all houses built on waterways have been earmarked for demolishing. NADMO is talking to the occupants of the need to relocate for their own interests and timelines have been given to them," he continued.
Source: otecfmghana.com/Francis Appiah