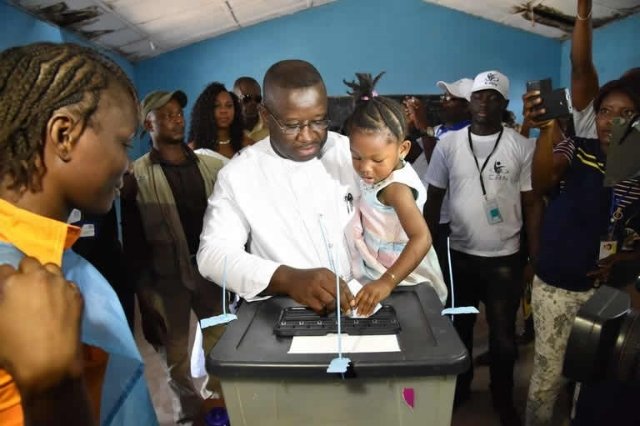 A former military commander and rebel leader who later went to graduate school in the United States and Britain was declared the winner of Sierra Leone's presidential runoff on Wednesday after a campaign season marred by reports of violence and irregularities.
The new president, Julius Maada Bio, was to be immediately sworn in on Wednesday night. The country's chief justice, Abdulai Charm, said the inauguration needed to be held quickly to avoid a power vacuum and in compliance with the country's Constitution.
Candidates from 16 parties ran for president, but in the first round of voting last month, no one won the 55 percent required to avoid a second round.
Mr. Bio, 53, from the Sierra Leone People's Party, received 51.8 percent of the vote in the runoff on Saturday, narrowly defeating Samura Kamara from the governing party, the All People's Congress, who won 48.2 percent, according to the Electoral Commission.
Mr. Bio will succeed President Ernest Bai Koroma, who is stepping down after serving a second five-year term. His tenure was punctuated by tragedy, including an outbreak of the Ebola virus and a deadly mudslide, in a country that is still recovering from a from a civil war that ended in 2002 after the deaths of more than 50,000 people.
In recent days, the candidates exchanged accusations of tribalism and even charges of attempts at "ethnic cleansing." A former British colony, Sierra Leone, with a population of nearly seven million, has long been divided along tribal and regional lines.
Several episodes of violence were reported at political rallies this year, and at least one death and several injuries were recorded. A gunshot was heard close to Mr. Bio's home after polls were closed on Saturday. For a time, internet service was suspended, as well as international phone service.
Andrew Lavali, the executive director of the Institute for Governance Reform, an independent research group in Sierra Leone, said the presence of heavily armed soldiers in the capital, Freetown, and elsewhere, created an atmosphere of fear and intimidation for many voters.
Source: New York Times