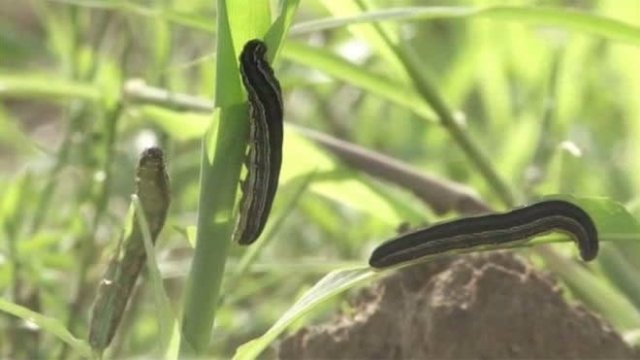 There is panic among some farmers in the Ashanti Region as the devastating Fall Armyworms re-emerge in some farming communities.
The destructive pests are already causing havoc in places like Ntensere in the Atwima-Nwabiagya District in the Ashanti Region.
One of the farmers, David Yaw told Joy News' Mohammed Nurudeen, he had been hoping to recover from last year's losses due to Fall Armyworms invasion.
Now, his four-acre farm is at the mercy of the worms are it is being destroyed by the worms feasting on it.
"Our main challenge is the worms, we have tried all we can to get the right chemicals to deal with them but to no avail.
"Government should come to our aid to get us the right chemicals to fight it," he said.
Akosua Boakyewa has been breaking her back to make the most of her farm but she is scared the reappearance of the worms will make her toil come to naught.
"I hired some people to wed, get the farm in shaped and spray the planted corn at a cost of over ¢800. But there is nothing good to report…I am not sure we can survive this," she said.
According to her, she is saddled with a bad debt of paying for loans and taking care of her children.
Last year, scientists at the Council for Scientific and Industrial Research (CSIR) warned there could be a major resurgence of the Fall Armyworm pests on farms across the country.
They called on government to immediately activate a fightback plan to avert destruction after the pests invaded more than 115,000 hectares of farm fields leaving farmers struggling to recoup their investments.
According to the Agriculture Ministry, it has put a preventive measure in place to deal with the situation, but for farmers like Yaw and Boakyewa such much-needed intervention is yet to reach them.
Source: Myjoyonline.com