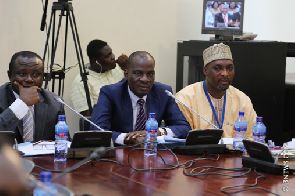 The deputy Special Prosecutor-nominee, Cynthia Lamptey, will appear before the Appointments Committee of Parliament, who will assess her suitability for the position, at a public hearing today [Wednesday] May 16, 2018.
If approved, Cynthia Lamptey will assist Martin Amidu, who was sworn in as the Special Prosecutor in February.
Ahead of the vetting, the Minority Chief Whip and Deputy Ranking Member on the Appointments Committee, Muntaka Mubarak said he expects the vetting to be smooth.
"I just read her CV and from her CV, it doesn't look like she is a controversial person. It also doesn't look like it may be a stretched vetting. I have not heard of any petition against her so if all this stands as it is today, then it is going to be a very smooth vetting," Muntaka Mubarak said to Citi News.
In contrast, Martin Amidu spent about seven-and-a-half hours being vetted, where he was queried on a range of issues, predominantly by the Minority members of the Committee.
President Nana Akufo-Addo nominated Jane Cynthia Naa Korshie Lamptey for the position of deputy Special Prosecutor on April 26.
She is a lawyer of 30 years standing at the Ghana Bar and a former acting Director of Public Prosecutions.
Among her notable works, Cynthia Lamptey led the prosecution of a former Executive Director of the National Service Scheme, Alhaji Imoro who is standing trial for the alleged theft of GHc86.9 million belonging to the state.
She was also in charge of the criminal prosecution of National Democratic Congress (NDC) financier, Alfred Agbesi Woyome, in the GHc 52 million judgment debt saga.
Source: citinewsroom