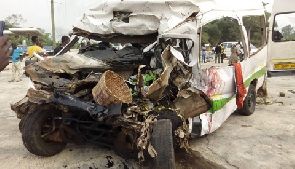 Some commercial drivers in the Ashanti region have resulted to the use of Tramadol as an enhancing drug in driving to avoid been caught by the police during alcohol breathalyzer test, according to the Ashanti Regional Manager of the National Road Safety Commission (NRSC), Ing. Samuel Asiamah.
He said their research has shown that the drivers have shifted from the alcohol taking while driving to the of tramadol and other narcotic drugs like marijuana and "shisha", a situation he described as a contributory factor to the cause of road accidents in the region, as it will be very difficult to detect and arrest a driver who has taken those enhancing drugs.
Ing. Asiamah, speaking in an interview with the host of Otec FM's morning show, 'Nyansapo', hosted by Agya Owusu Ansah  on Friday, May 18, 2018, on how to deal with recent road carnage in the Ashanti region, said the situation has led to the increase of road accident in the region.
"In some interactions and workshops with some commercial drivers, some have confessed of taking tramol and marijuana in driving. Through our education of 'don't drink and drive', some of the drivers have resorted to use of tramol and marijuana in driving to dodge been caught by the police during the breathalyzer test. They believe that taking these drugs help them to drive without tiring, and these have resulted in some preventable road accidents," he said.
He revealed that as of April 2018, the region has recorded 83 deaths through road accidents, with 14 accident cases relating to the use of these drugs by the involved drivers.
"To curb this situation, we need collaboration from the Food and Drug Authority (FDA) and medical experts for the advice on detection of those who take these drugs with easy, and we will have to make sure the laws are punitive enough to those caught using tramadol and others drugs, to deter other drivers from engaging them," he pleaded.
He therefore advised drivers to stop to use of tramadol to prevent accidents, and also to report their fellow drivers who engage in these drugs to the NRSC and the police to save lives.
Source: otecfmghana.com/Francis Appiah