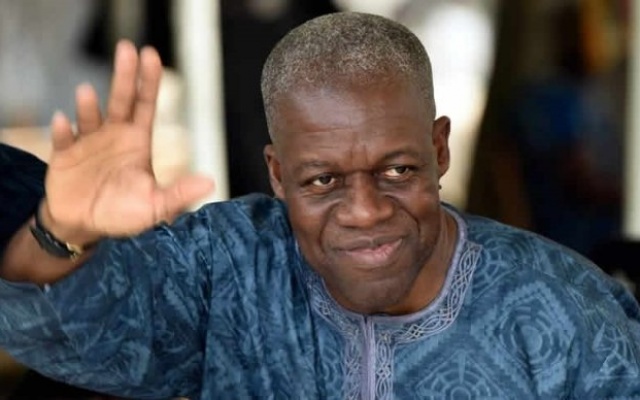 The funeral and burial of the late former Vice-President Kwesi Amissah-Arthur begins today, Thursday, 26 July 2018 at the Accra International Conference Center.

He will be laid in state at the foyer of the AICC for filing past by the general public.

The late former Vice-President will be buried on Friday, 27 July 2018 at the Military Cemetery, Accra.

Mr Amissah-Arthur died on 29 June after collapsing during a workout session at the Airforce Gym.

He was 67.

The Accra Regional Police Command has announced that some roads around the Osu Cemetery and its environs will be closed temporarily for the funeral and burial.

The affected roads are the Osu Cemetery Traffic Light, on the Lokko Street and the Castle road, from the AU Circle to Osu Cemetery Traffic Light.

The road will remain closed from Thursday, 26 July to Friday, 27 July 2018, and unmarked vehicles will not be permitted to park or drive though those routes.

Motorists from the Lokko Street towards the Castle road are advised to consider using the Ajumaku and Oxford Streets.

Likewise, traffic from the AU Circle towards the Castle road shall be diverted unto the Abdul Diouf and King Hassan roads.

The man Amissah-Arthur

Amissah-Arthur was the sixth Vice President of Ghana, in office from 6 August 2012 until 7 January 2017, under President John Dramani Mahama. Previously, he was Governor of the Bank of Ghana from 2009 to 2012.

He was sworn in as Vice-President on 6 August 2012, following vetting by Parliament.

He was nominated by Former President John Dramani Mahama to be vice president a week after Mahama himself was sworn in.This followed the sudden death of President John Atta Mills on 24 July 2012.

Economics and consultancy

Amissah-Arthur was a research assistant at the Institute of Statistical, Social and Economic Research between 1974 and 1975. He later joined the Economics Department as a teaching assistant from 1977 to 1978, going on to become an assistant lecturer in 1979.

He lectured at the Department of Economics at the University of Ghana between 1980 and 1988. He has also been a lecturer at the Department of Economics, Anambra State College of Education, Awka, Anambra State, Nigeria (August 1981 – July 1983).[7] He went into politics until 1997. He worked as a consultant for the World Bank in The Gambia.
He also served as a consultant for the Netherlands' government education project in Ghana. He then worked as Senior Economist for the Sigma One Corporation in Ghana between 1998 and 2000. Between 2001 and 2002, he was on assignment for the Ministry of Foreign Affairs of Denmark.

Politics

From 1983 to 1986, Amissah-Arthur served as a special assistant to the Secretary of Finance and Economic Planning, Kwesi Botchwey, in the Provisional National Defence Council government. Subsequently, he was Deputy Secretary for Finance in the PNDC government from February 1986 to March 1993. From April 1993, he continued as the Deputy Minister for Finance in the Rawlings government after the establishment of constitutional rule until March 1997.

Amissah-Arthur was appointed as Governor of the Bank of Ghana in October 2009 by President John Atta Mills. He held this position until 6 August 2012, when he became Vice-President of Ghana following the death of Atta Mills.

Source: Ghana/otecfmghana.com