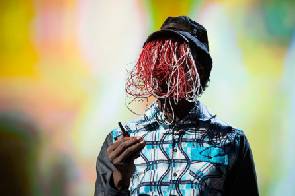 Investigative journalist Anas Aremeyaw Anas has petitioned the National Media Commission (NMC) to investigate Accra-based radio station Hot FM and its current affairs show host, Justice Kweku Annan for using their platform to malign him with no justifiable proof or evidence.
The petition dated July 3 and signed by Anas argues that the conduct of Mr Annan host of 'Ghana Must Know' and by extension Hot FM is not in accordance with the highest journalistic standards and media ethics pursuant to section 13 of National Media Commission Act, 1993 (Act 449).
According to the petition, Mr Annan asked Anas' undercover operatives to pay an initial deposit of GHC35,000 to contribute to a project to destroy Anas, Tiger Eye PI and Kweku Baako, the Editor in Chief of the New Crusading Guide.
"We posed as a relative to a man who had been exposed by Anas and his team and wanted to see Anas destroyed. We met Mr Annan on three occasions – twice at Kempinski hotel in Accra and Afrikiko around Flagstaff House area on June 1, June 5 and June 22 respectively. Justice asked us to pay an initial deposit of thirty-five thousand cedis to contribute to the project to destroy Anas, Tiger Eye Pi and Mr Baako and subsequently will come for extra money as the payment advances," Anas wrote.
Anas said, the sting operation by his sting operation also uncovered a scheme by some influential Ghanaians who want to expose his identity.
In all, we paid Mr Annan five thousand Ghana cedis (GHC 5000) as our contribution,he told us.
There are a group of influential Ghanaians including politicians such as Kennedy Agyepong, MP Assin Central, who are bent on exposing the face of Anas and eventually destroy his credibility with series of untruths 犀利士
and lies. He revealed the operation is on two platforms – Radio and television," the petition stated.
Attached to the petition are several audio/visual recordings of meetings with Mr Annan and some publications he made on Hot FM in the month of June.
Source: Graphic.com