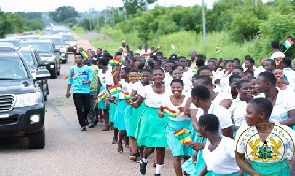 The Conference of Heads of Assisted Secondary Schools (CHASS), has indicated its preparedness ahead of the implementation of the newly introduced double track system.
The new system, which begins on Tuesday, September 11, 2018, is expected to create space to accommodate more students due to an increase in enrollment.
It is also expected to reduce class size, increase contact hours, and increase the number of holidays.
Government adopted the double-track (semester/sandwich) system to cater for increased enrollment under its flagship programme, the Free Senior High School, due to deficit in infrastructure.
In an interview with OTECNews, Very Rev. Abraham Osei Donkor, General Secretary of the CHASS), said CHASS has put in place the necessary measures to ensure the successful implementation of the double track system for Senior High Schools.
"I believe by Tuesday to a very large extent we will be ready for the students to come. We have prepared the timetable looking at the staff strength. Where there are shortfalls, we have notified management".
Already, a list of Senior High Schools (SHSs) that will be captured under the system has been released.
This list is made up of 400 out of the 696 public SHSs in the country.
Rev. Osei Donkor called on all stakeholders to contribute their quota to the success of the policy.
"I believe that we should all get involved, be optimistic for us all to reap the intended benefits."
GES releases SHS placement for double-track system
Last week, the Ghana Education Service (GES), released the placements of 423,134 students who have successfully made it under the 2018 Computerized School Selection and Placement System (CSSPS).
That was out of 521,710 total registered candidates. It means 67,382 could not be placed under the system.
In the release, GES said candidates are to visit www.cssps.gov.gh to access their placements.
It said candidates placed on the GREEN TRACK will resume on September 11, 2018, whereas the GOLD TRACK will resume on November 8, 2018.
Management of GES further advised candidates who could not be placed to visit the CSSPS portal to choose from a number of available schools with vacancies.
The Minister of State in Charge of Tertiary Education, Professor Kwesi Yankah, allayed the fears of Ghanaians who are anxious about the introduction of the 'Double-Track System'.
He has urged Ghanaians to remain calm since the policy has come to ensure that every qualified Ghanaian student is granted access to secondary education.
Source: citi