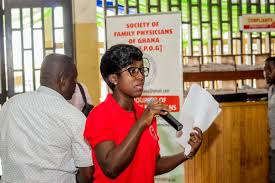 Over 800 people were screened and 32 surgically operated free of charge for various health conditions Wednesday by members of the Society of Family Physicians (SOFPOG).
The outreach which took place at Nkawie in the Ashanti region was part of a weeklong commemoration of their first Annual General Meeting and 20 years of Family Medicine practice in Ghana.
Beneficiaries of the free medical surgeries were mainly poor and vulnerable groups mostly farmers.
Dr. Fred Bedzrah; a family Doctor and National Organizer of SOFPOG explained that the surgeries dealt mainly with hernias, Hydrocoele and various tumors and lumps that threatened the lives of the beneficiaries.
Those screened of various ailments were also provided free medication.
Some of the beneficiaries rawgist.com spoke to revealed that they had lived with their conditions for long periods and couldn't afford medical treatment. They were full of gratitude to SOFPOG for coming to their rescue.
Dr. Bedzrah also extended his gratitude to his colleague Doctors who spent several hours performing the surgeries. He also thanked Kuapa kokoo for providing logistical support for the exercise. He promised the exercise will be assessed and made better in subsequent years so that more people can benefit. He also called for support and partnerships in order to expand the programme to other parts of the country.
He hinted that as part of the celebrations, there will be other activities such as an inter-Universities debate competition, a public lecture, a scientific conference, aerobic sessions as well as a dinner and awards night.
He was excited that after 20 years, family medicine is gaining the needed recognition. He believes the growth of family medicine practice in Ghana is what the country needs to give meaning to the capitation system of Health Insurance as it enables Medical Doctors know their clients and places them in a position to help them with all their health concerns.
Debate Competition
The Society of Family Physicians (SOFPOG) also held an electrifying debate competition for universities in the Ashanti region.
Kwame Nkrumah University of Science and Technology (KNUST), Garden City University College (GCUC), Christ Apostolic University College and University of Education-Kumasi (UEW-K) are the Universities that participated in the competition.
After the prelims, KNUST and UEW-K were the two schools that were left standing. KNUST however dazzled the judges and emerged victorious at the end of the day. They received a trophy, medals and a cash prize of one thousand cedis while the second and third position schools also received medals and cash prizes.
National President of SOFPOG; Dr. Emmanuel Ati who was also a judge of the competition expressed his excitement at the performance of the students and hoped to institutionalize it.
The motion of the debate was: "Is Ghana close to attaining universal Health Coverage after 62 years?"
The participants expressed excitement about the competition and hoped to make a stronger appearance in subsequent competitions.
Source: Ghana/otecfmghana.com