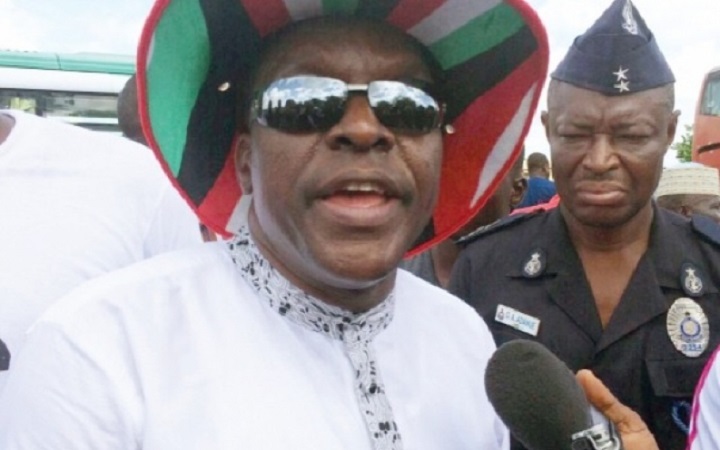 Ghana's longest-serving Member of Parliament, Alban S.K. Bagbin will not be seeking re-election in the next parliamentary polls.
The 62-year-old had not picked nomination forms to contest the Nadowli-Kaleo parliamentary seat at the close of nomination today, Friday.
Bagbin who is currently Ghana's second Deputy Speaker of Parliament has been occupying the Nadowli-Kaleo parliamentary seat since 1992.
Known in the local parlance as "Nadowli Mugabe," Bagbin's exit will pave way for a new candidate for the first time in 28 years.
The legislator is yet to give reasons for his exit but it will be recalled that a youth group in his constituency mounted pressure on him earlier this year to give way for a new person to take over.
A former Upper West regional secretary of the National Democratic Congress (NDC), Eric Dakurah, in a otecNews interview said "his exit is welcoming news. As a constituency, we have prepared him far more than a parliamentary candidate. He has gone through the mill in parliament and should be seeking for higher portfolios. We have supported him all this while and wish that he supports whoever that emerges as a parliamentary candidate so that we can maintain our dominance in the Nadowli-Kaleo constituency."
It is unclear if the second deputy speaker will throw his weight behind Mr. Martin Lucas N. Kunbanpuo who is a supporter of his.
otec News can report that a total of nine people have picked up nomination forms to contest the Nadowli-Kaleo parliamentary primaries.
The figure is the highest in all the eleven constituencies of the Upper West region.
In all, a total of 46 people have picked up nomination forms to contest in the parliamentary primaries in all the eleven constituencies of the Upper West region.
The Jirapa constituency follows the Nadowli-Kaleo constituency with 8 people picking nomination forms while the incumbent member of parliament for the Daffiama-Bisie -Issa constituency, Dr. Sabastian Sandaare is going unopposed.
Below is the full list of persons who picked forms at the close of nominations.
NDC UPPER WEST PARLIAMENTARY ASPIRANTS:
Sissala East
1. Dr Sumaila Asuru
2. Hon. Adamu Yakubu
3.Dr King Suleman Dima Bachiesichang
4. Hon Bukari Bayorbor
5. Hon Issah Mohammed Bataglia
6. Ibrahim Jamilatu
Sissala West
1. Mumuni Hakeem Duwiejuah
2. Mary Hagbana Abu Nankpa
3. Mohammed Adams Sukparu
Lambussie
1. Marcelinus Welber
2. Hon Kofi Bom Dy-Yakka
3.Hon. Edward K Dery
Nandom
1. Dr Richard Kuu-ire
Lawra
1. Daniel Tigbee
2. Hon Bede A. Ziedeng
DBI
1. Hon Dr Sabastian Sandaare
Jirapa
1. Bright Salia
2. Dr Raegan Dipilah
3. Augustine Mwinnye
4. Hon. Cletus Dapilah
5. Lawyer Gbang Vitus
6. Richard Kuunaah
7. Hon Dr Bawaana Dakurah
Nadowli Kaleo
1.Martin Lucas N. Kunbampuo
2. Romanus Gyang
3. Dr Camynta Baezie
4. Eric Dakura
5. Anthony Sumah
6. Vitus Mwinyuri
7. David Jawara
8. Awudu Mumuni
9. Salifu Dumba
Wa West
1. Supt (Rtd) Peter Lanchene Tuubo
2. Hon Joseph Yiele Chireh
Wa East
1. Dr Godfred Seidu Jasaw
2. Hon Aminu Salifu
Wa Central<
1. Hon Yakubu Adama
2. Dr Khalid Sheriff
3. Dr Khalid Sherif
4. Hon Dr Rashid Hassan Pelpuo.
Source: Ghana/otecfnghana.com