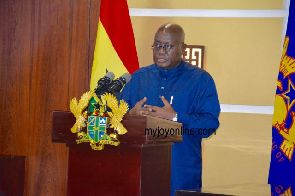 President Akufo-Addo has stated categorically that he is not presiding over family and friends governments as it has been trumpeted by his critics.
According to him, two of his family members working in his government are qualified and professionals in various field of work and not because they are his family members.
The President made these statement at the media encounter at the Jubilee House Thursday.
He said the Finance Minister, Mr Ken Ofori-Atta, who is his cousin was in charge of the New Patriotic Party Fund Raising Drive which helped the party financially "but then nobody saw anything bad about it."
"I am sure it is not difficult for someone who raised funds for the party to transition or transform decisions to boost the economy as a finance minister," Nana Akufo-Addo stated.
"As far as I am concerned, he is reasonably capable and like a magician, because he has been able to raise money to do many of the numerous programmes currently rolling, he is a real break and I am very very satisfied with the work he is doing.
"He is there not because he is my cousin but a very capable man, as an investment banker, build a successful business and extremely and highly regarded in the world of finance and investment across the globe.
On corruption, the President said, "I am certainly not corrupt, I continue to say that I am not corrupt, I have not been corrupt and have not taken money from anybody to give anybody contract."
Contrary to his answer, his major critics, the opposition National Democratic Congress (NDC) had earlier listed over 51 persons, they say are relatives and 'entire nuclear family' of the President who are serving in his government.
Source: Ghana/otecfmghana.com