Coronavirus: Ghana seeks God's divine intervention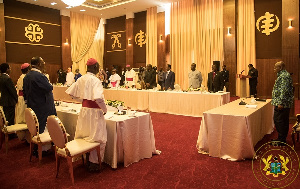 Ghana will today turn to God in prayer over the dreaded novel Coronavirus pandemic.

The day was set aside by President Nana Addo Dankwa Akufo-Addo during his nationwide broadcast since the outbreak of Coronavirus in the country.

The dreaded virus has already killed two persons out of the 53 active cases recorded so far.

Globally, it has claimed the lives of about 19,000 in the last few months.

All religious bodies across the country will today, Wednesday, March 25, be praying for Divine intervention to halt the fast pace at which the coronavirus is spreading in the country.

"These are not ordinary times and at such times in a country whose population is predominantly Christian, we must seek the face of the one true God for healing and restoration," President Akufo-Addo told Ghanaians at the televised Prayer meeting held at the Jubilee House, the seat of the Presidency in Accra, Thursday, March 19.

"I have called you to this prayer meeting for us to join together and pray to the Almighty God to protect our nation, heal this land and save us from this pandemic," the President said and added, "We are also putting into practice the hope of the words in the holy scriptures in James 5:14 and 15 and I quote 'If anyone among you sins let them call the elders of the church to pray over them and anoint them with oil and a prayer offered in faith will raise him up."

"I am confident that this morning's (March 19) prayer, which will be offered in faith will help heal our nation and will help raise Ghana up and I believe profoundly that we the Ghanaian people, with our faith in the Almighty, will overcome this challenge. This too will pass," President Nana Addo Dankwa Akufo-Addo made the call in a televised speech on Saturday.



Akufo-Addo's 3rd address to the nationVolume 94%
Ghana's coronavirus cases rise to 53
As of March 24, 2020, a total of fifty-three cases including 2 deaths were confirmed.
All the fifty-one actives cases according to health experts are receiving treatment in isolation.
"The sudden spike in case incidence is as a result of the mandatory quarantine and compulsory testing for all travellers entering Ghana, as directed by the president. As of 24 March, a total of 1,030 are under mandatory quarantine; 844 have had their samples taken; 510 have had the samples tested, and out these twenty-six tested positive for COVID-19," the Ghana Health Ministry stated.
The Ministry added that "Greater majority of the confirmed cases are Ghanaians, who returned home from affected countries. Seven are of other nationals namely: Norway, Lebanon, China, France, UK. In respect of contact tracing, a total of 829 contacts have been identified and are being tracked."
One (1) of the contacts developed symptoms and has been confirmed positive.
Nineteen (19) people have completed the 14 days of mandatory follow up.
Source: Ghana/otecfmghana.com