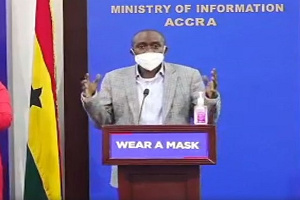 A surveillance report released by Ghana Health Service indicates that there hasn't been any substantial shift in the Coronavirus cases in Obuasi as the town still remains the hottest coronavirus spot in the Ashanti Region.
Head of Disease Surveillance of the Ghana Health Service, Dr. Franklin Bekoe while presenting the surveillance report after a visit to Obuasi said the increasing numbers of the cases in the town can be largely attributed to the population density and noncompliance on the part of residents to safety protocols.
"I'd like to say that as I speak now Obuasi is actually the main hotspot for Ashanti Region and there's a clear focus to see how best we can address the challenge…The population density of Obuasi is very high but doesn't have a treatment facility. Many people do not wear face masks," Dr Franklin Bekoe said in his address at the Minister's press briefing, Tuesday, May 19, 2020.
He indicated that per new coronavirus updates which brought the country's tally to 5918, Ashanti Region recorded 63 new cases of which Obuasi alone scoped 38 new cases.
This adds to the already existing 272 which was recorded over the past weeks.
One coronavirus patient in Obuasi had 109 contacts
Still, on the spread of the virus, Dr. Franklin Bekoe said their surveillance in Obuasi revealed that one person who contracted the disease unknowingly came into contact with about 109 persons.
This, he said, came to light after the enhanced contact tracing which was carried out by health authorities in the area.
However, he indicated that though the soaring number in cases has become a burden on authorities, the districts have pooled resources together to fight the virus.
"Obuasi is working as a joint community…Districts have come together to address the magnitude of the disease," he mentioned as he stressed on collaboration in the area.
Source: Ghana/otecfmghana.com