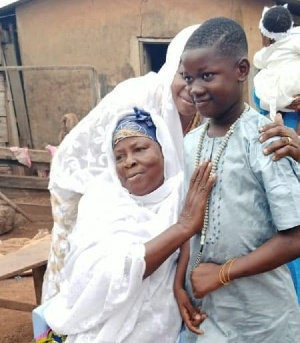 The 10-year-old boy allegedly murdered at Kasoa in the Central Region, for money rituals, Ishmael Abdallah is to be buried today, Thursday, April 8, 2021.
This follows an appeal by the family to the police to hand over the corpse of Ishmael for a befitting burial.
Speaking in an interview, spokesperson for the family, Samed Akalilu, said preparations are being made to pick the body from the Police for burial in line with the Islamic religion.
"Yesterday, when we went to Court, our expectation was that the body of Ishmael would be given to us but unfortunately, it could not happen.
"However, from the hints we have received, everything indicates that we will get the body today so we can proceed to bury our dead according to Islamic customs and rituals," he said.
Ishmael was murdered by two teenagers, Felix Nyarko,16 and Nicholas Kene, 18 who have been handed over to the police to assist in investigations.
The sad incident happened at Kasoa Lamptey Mills in the Awutu Senya East Municipality in the Central Region on April 3, 2021.
The suspects, giving the rationale behind their actions, told the police a fetish priest in the Volta Region had asked them to bring body parts for money rituals.
Meanwhile, the spiritualist alleged to be at the centre of the gruesome killing has been arrested at Amanase near Suhum in the Eastern Region.