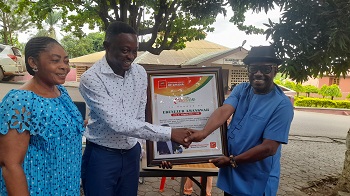 DJ Obolo receiving awards
The Ashanti Regional branch of the Musicians Union of Ghana (MUSIGA), has honoured Ebenezer Amankwah, a broadcast journalist of Otec FM in Kumasi, for his contribution to the growth of local music.
Mr Ebenezer Amankwah, known in the broadcast industry as DJ Obolo, was honoured for his support for the wellbeing of musicians in the region and beyond.
At a ceremony held at the Centre for National Culture (Kumasi) on Tuesday, June 22, 2021, the Acting National President for MUSIGA, Bessa Simons, presented Mr Amankwah with a citation.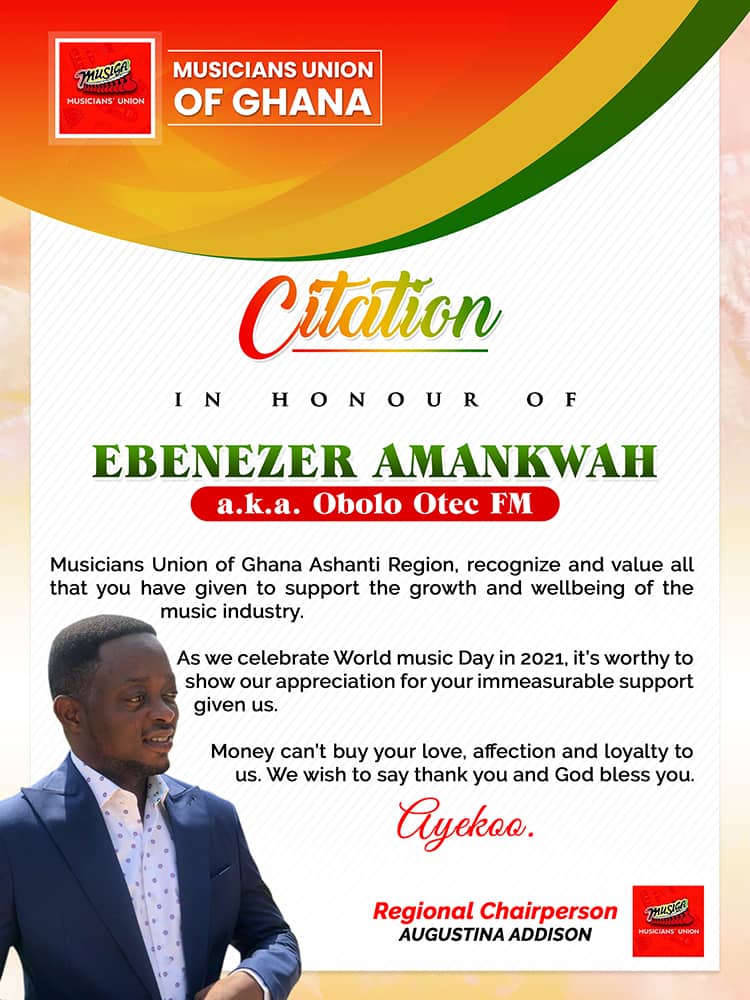 The ceremony was part of activities to mark World Music Day, which fell on Monday, June 21, 2021, a day to encourage young and amateur musicians to perform.
The citation read: "Musicians Union of Ghana Ashanti Region, recognize and value all that you have given to support the growth and wellbeing of the music industry."
"As we celebrate World Music Day in 2021, it is worthy to show our appreciation for your immeasurable support given us," it also said.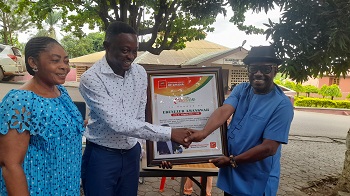 "Money cannot buy your love, affection and loyalty to us. We wish to say thank you and God bless you," a citation signed by the Ashanti Regional Chairperson of MUSIGA, Augustina Addison.
"I am really overjoyed by this honour done me. I never knew I am being watched by people. I thank you for this award as this will motivate me to work harder to support the growth of the local music industry in the country," the elated Mr Amankwah, who is also the Marketing Manager of Otec FM, added.
The Acting National President for MUSIGA, Bessa Simons, at the ceremony appealed to broadcasters to support the growth of the music industry.
He also commended the Ashanti MUSIGA for taking the initiative to honour broadcasters, the first of its kind in the country.
The Ashanti Regional chairperson of MUSIGA Augustina Addison said the decision to honour DJ Obolo, who is also the host of 143 KASA http://www.facebook.com/143kasa, a relationship programme on Otec FM, would encourage more music presenters or DJ's to play more local content on air.
Source: Ghana/otecfmghana.com/Francis Appiah