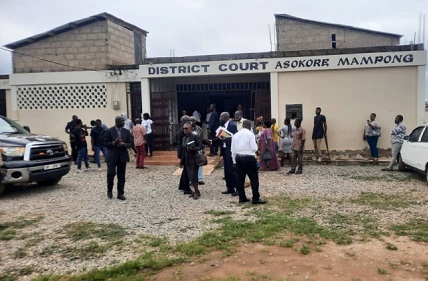 Three more students of the Kwame Nkrumah University of Science and Technology (KNUST) have been remanded in police custody in connection with the recent violent clashes on the campus.
The three are Emmanuel Appiah Amoah aka Soldier Ba, Eugene Nuamesi and Kwabena Kwarteng Amaniampong aka Zongo Chief.
This brings to five the total number of students arrested out of the 62.https://www.youtube.com/embed/-k6TKVH3YA0
Luv FM's Emmanuel Bright Quaicoe, who was in court on Friday, September 23, reports that the students were charged with rioting and causing unlawful damage.
Lawyers for the accused prayed the court to grant bail to the three but the court refused to grant the bail.
The court presided over by Hilda Esther Wryter ordered the prosecution to make adequate provisions for the students to sit for their ongoing exams while they stay in custody.
Defence counsels are, however, unhappy with the court's decision, casting doubts that the suspects might not be allowed to sit for exams.
Earlier, the Asokore Mampong District Court issued arrest warrants for 62 persons suspected to be involved in the recent violence on the KNUST campus.
This was after it had remanded two suspects in custody for the second time to allow the prosecution to arrest other suspects and gather enough evidence.
The two, Daniel Osei Bonsu and Francis Atuahene, were slapped with four charges of conspiracy to commit crime, rioting with offensive weapons, causing unlawful damage and causing unlawful harm.
Head of Legal and Prosecution at Ashanti Regional Police Command, ACP Kofi Blagodzie, presented the names of eleven more suspects as well as evidence of the destruction caused by the riots.
"We substituted the charge sheet and presented the court with a new charge sheet so we are on with the matter", he said.
Prosecution further argued the suspects should remain in custody as investigators go after other suspects.
Defense counsels argued otherwise, insisting the two should be granted bail.
They argued suspects Daniel Osei Bonsu and Francis Tutu Atuahene will have to report for the examination and work respectively.
However, the court denied them bail and asked them to reappear on September 19, 2022, for the trial to continue.
The two suspects were among a group of students who clashed on the university campus during the hall week celebration of the University Hall. 
The confrontation led to the destruction of many properties, including vehicles at the Unity Hall of residence of the KNUST, and injuries to some of the students.