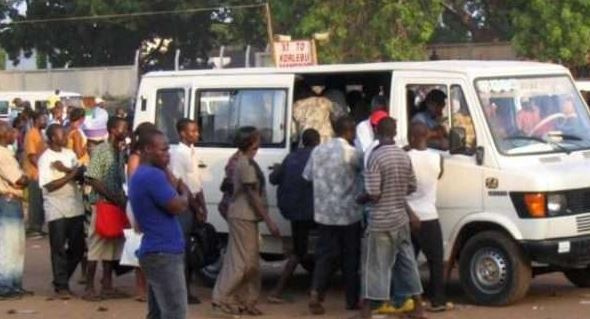 The Deputy Public Relations Officer of the Ghana Road and Transport Union (GPRTU), Samuel Amoah has ruled out any chance of transport fares reduction despite the drop in fuel prices.
Prices of petroleum products have lately seen a decline at the pumps.
On Thursday morning petroleum products went down between three and 10 per cent with petrol selling at ¢12.95 at some outlets.
On the back of this, commuters are urging GPRTU to review transportation costs in order to accommodate the reduction.
But speaking in an interview on JoyNews' The Pulse on Thursday, Mr Amoah noted that GPRTU will only consider a reduction if fuel sells at ¢11 per litre.
According to him, putting other calculations and components in place, a reduction in fare will mean a collapse of businesses although fuel prices have seen a decline.
"At the moment, if we are to think of reducing our transport fares, then we want to see the fuel price coming down to around ¢11 per litre because that was where it was before we had our first 20% increment before up to the 15.99% before we did another increment again," he told newsmen in Accra
He explained that insurance has shot up to a 30% not to talk of spare parts and lubricants.
He stated the Union, however, hopes that fuel prices continuously decline to enable them to reduce fares.
This, he noted is due to the fact that there is high patronage when there is a reduction in fares.
"You see everybody coming to the trotro station to board vehicles. So it is our prayer that the fuel prices will still come down and we also think of reducing the fares," he said.