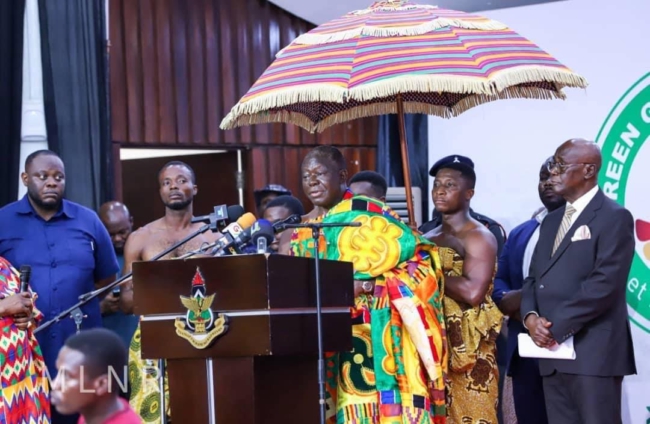 Asantehene Otumfuo Osei Tutu II says he is unhappy with the spate of illegal mining that has ravaged lands in the Amansie area of the Ashanti Region.
He will be visiting the area to demand answers from local chiefs who allowed the menace to destroy their lands.
He spoke at the launch of the 2023 edition of the Green Ghana Day, which is part of the government's drive to aggressively restore degraded lands and depleted forest reserves.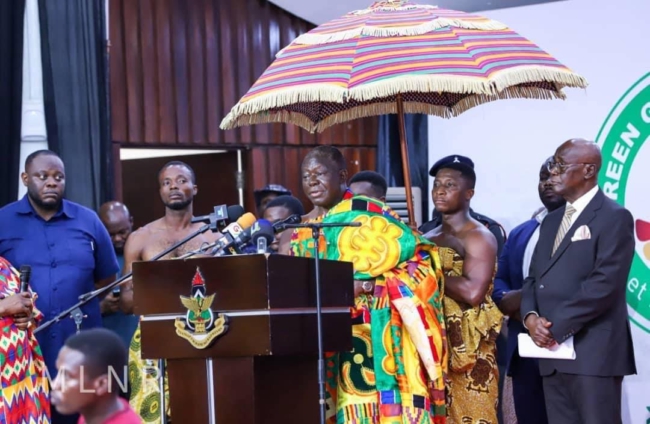 "I am not happy with chiefs in the Amasie area where galamsey has taken over the lands, and I say to them that if they sit there and claim that they do not know what's happening then you're not fit to be a chief over there. These are matters we are going to take up them again. I don't care whose job it is to enforce it. "
He continued that, " …I have to start with my chiefs first, then government has to deal with the other ones. We all have to take matters seriously to bring this to a closure. I am going to take a drive around those areas. If I finish with that, all the chiefs in that area may have to answer as to why that happened," he stated.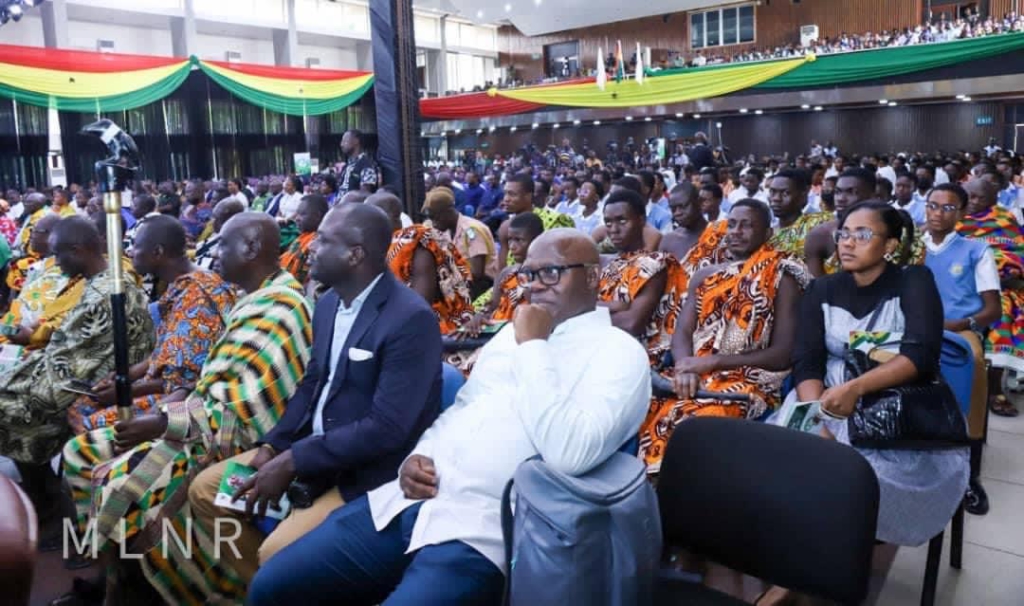 According to the Global Forest Watch, Ghana has lost a total of 1.4Mha of tree cover from 2001 to 2021 with over 160,000 hectares of forest lost within 2010-2015.
The percentage of forest loss within the period exceeds the quantum of trees cultivated from 1963 to 2016.
Illegal mining, illicit logging, the changing climate and other environmental degradation factors are attributable to Ghana's forest loss.
The Ashanti Region despite planting over 7 million trees – highest of all regions – since the inception of the Green Ghana Day is heavily riddled with illegal small-scale mining.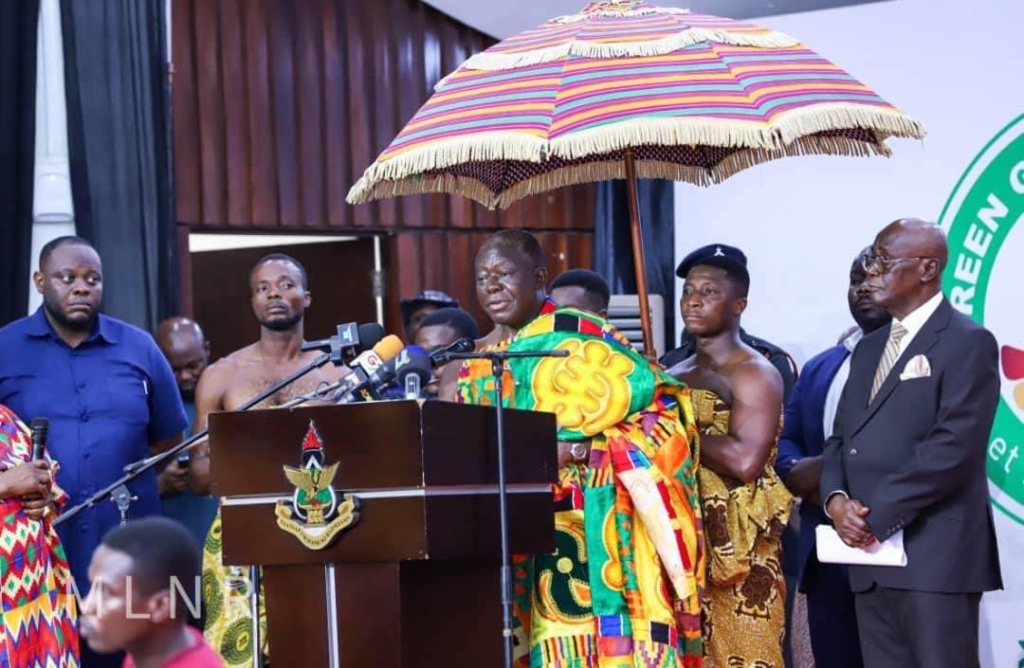 Alarmed by the spate of illegal mining, the Asantehene reiterated his commitment to fighting the menace.
"It is very sad that despite the several measures government has been putting in place to curb this menace, illegal logging and illegal mining continue to pose a threat to our forests. It means that government cannot do it alone. We must all get involved and support government to come to grips on these matters," he said.
In the past two years, the country has planted over 30 million trees in a bid to restore Ghana's degraded lands and depleted forest cover with 23 million of those surviving.
The government is however targeting a reduced quantity of 10 million of tree seedlings in reserves and off-reserves nationwide for the third edition of the Green Ghana Day.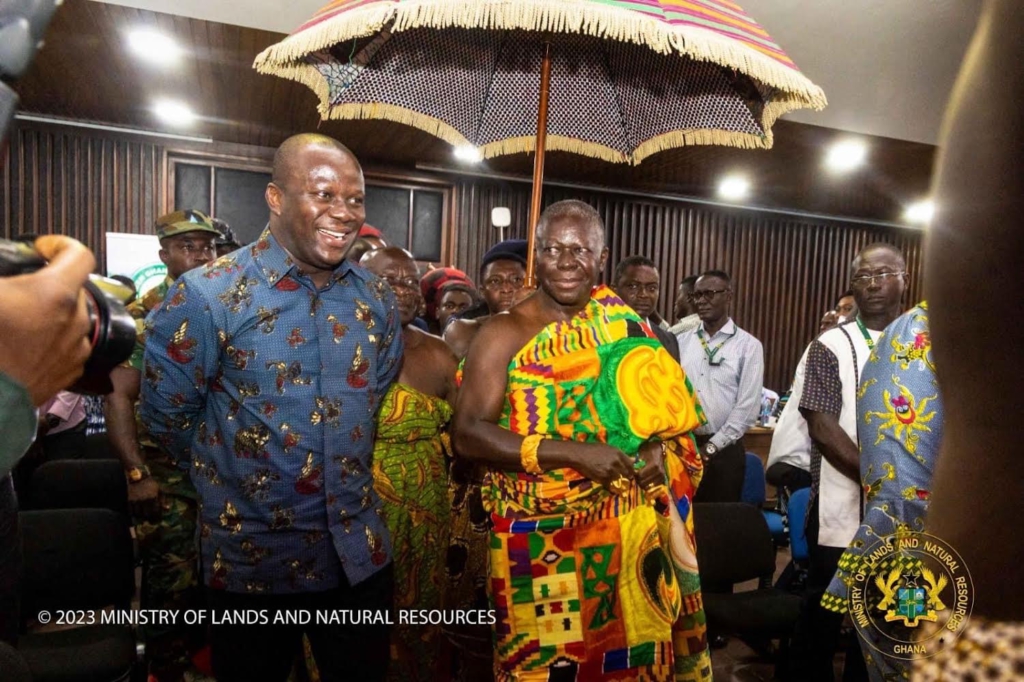 The Minister responsible for Lands and Natural Resources, Samuel Abu Jinapor, says the reduction is for the government and all stakeholders to tend to trees planted over the last two years.
According to him, the first two editions were very successful having exceeded its targets on both occasions.
"…We thank all Ghanaians who have supported the project in the last two years which has resulted in the planting of some 30 million trees. To be able to devote attention and resources to these trees, we have revised our target this year downwards to 10 million trees."
For him, the nexus between mining and forest is obvious.https://16d3859987ae8e8bb6be4044f5c3fadb.safeframe.googlesyndication.com/safeframe/1-0-40/html/container.html
"The exploitation of mineral resources and the protection of our natural environment as well as the protection of human rights are not mutually exclusive but can peaceably coexist," he said.
The 2023 Green Ghana Day is held under the theme "Our Forests, Our Health".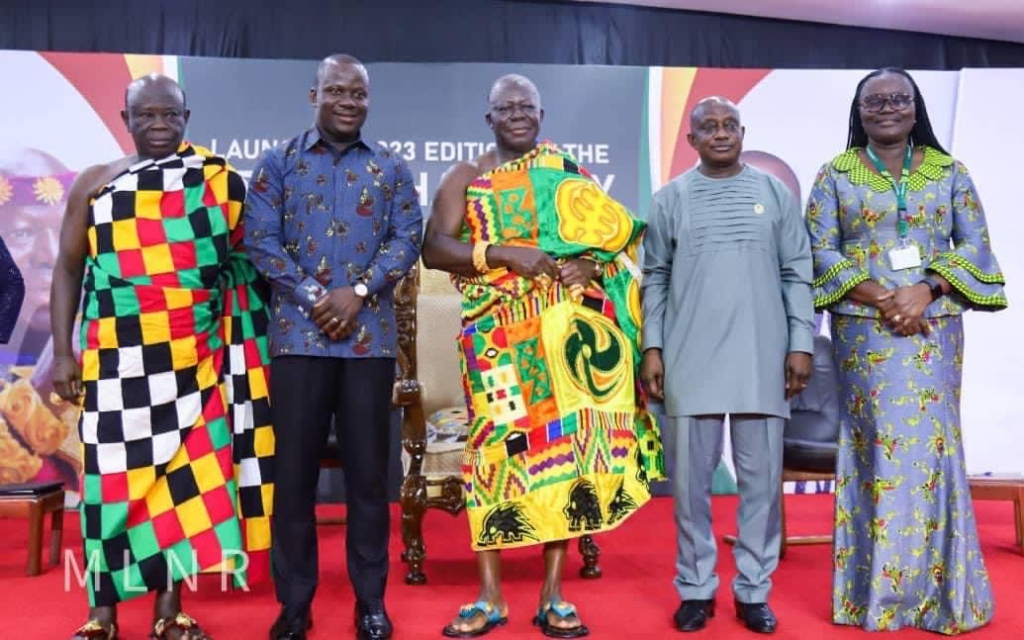 Speaking on the theme, Vice Chancellor of KNUST, Prof. Rita Akosua Dickson enumerated some health and social importance of trees including the diverse chemicals contained in plants to help fight diseases.
She charged the citizenry to commit to tree planting.
The third edition of the Green Ghana Day is slated for June 9, 2023.