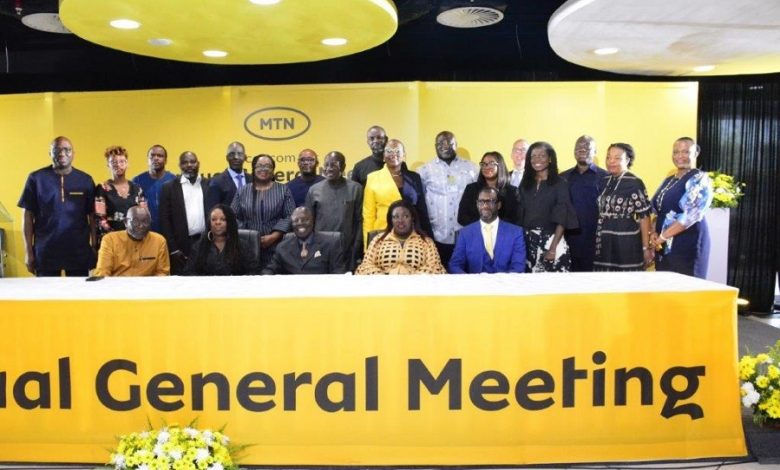 Scancom PLC (MTN) has held its 5th Annual General Meeting (AGM) on May 30th 2023. Updating shareholders on the company's performance for the year 2022 at the AGM, the Board Chairman, Dr. Ishmael E. Yamson, indicated that MTN Ghana's performance for 2022 was strong with a total revenue growth of 28.4% Year-on-Year (YoY) underpinned by good execution of the commercial strategy by management, resulting in growth in Voice, Data and Mobile Money (MoMo) revenues.
"MTN is committed to improving the lives of Ghanaians through appropriate and sustainable socioeconomic interventions. Over and above the investment in MTN's network and IT systems, the organization allocated GHS28.3 million to undertake health, education and economic empowerment projects in 2022 through the MTN Ghana Foundation," Dr. Yamson indicated.
At the AGM, a dividend of 12.4 pesewas on ordinary shares was approved and will be paid to all shareholders on 22 June 2023. This brings the total dividend for the 2022 financial year to 16.4 pesewas per share following the interim dividend of 4.0 pesewas per share paid on 22 September 2022. This represents 70.6% of profit after tax and a 42.6% Year-over-Year (YoY) increase in dividend per share paid in 2022 over 2021.
Speaking at the AGM, the Chief Executive Officer of MTN Ghana, Mr. Selorm Adadevoh enumerated MTN's commitment to driving growth and unlocking value for all stakeholders through its Ambition 2025 strategy. He said, "We are confident in the medium to long-term prospects of Ghana's economy and as such, MTN commits to continue to invest efficiently in infrastructure and to improve the capacity and quality of connectivity and other related services for our customers."
Touching on MTN's digital initiatives, Mr. Adadevoh said "MTN will continue to lead the adoption of new innovative solutions that solve relevant problems for Ghanaians. MTN will deepen the ongoing work to improve its platforms, particularly MyMTN and Ayoba Apps, as well as MoMo as part of MTN's three-app strategy to enhance customer choice, customer experience and to deliver on MTN's commitment of excellence to its cherished customers".
"The communities we operate in remain core to everything we do and to this end, MTN continues to extend various sustainable projects and initiatives to improve communities across the country with a focus on building and growing digital skills among the youth, with a particular focus on females", Mr. Adadevoh stated.
Since its listing on the Ghana Stock Exchange (GSE) in 2018, the company remains the organization with the largest number of Ghanaian shareholders.
Source: Ghana/otecfmghana.com/Bismark Kelly Koomson