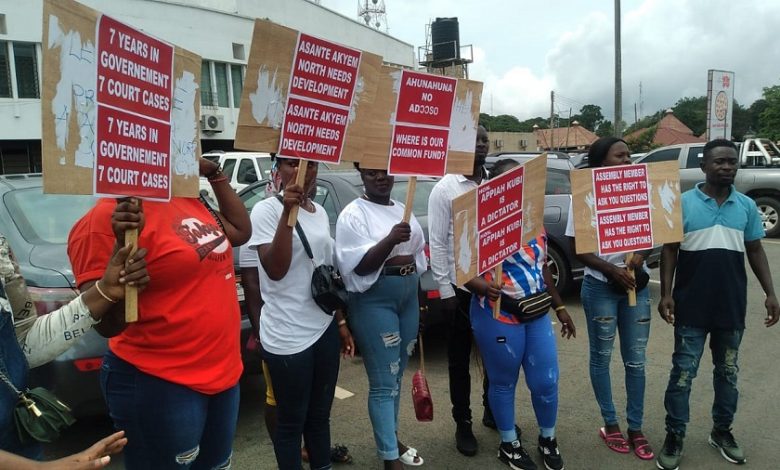 Some youths from Asante Akyem North demonstrating with placards at the precincts of the Kumasi High Court last Friday.
The Member of Parliament (MP) for Asante Akyem North, Andy Appiah Kubi on Friday morning failed to show up in court despite filing a suit against the Assembly member for the Obuasi Electoral Area for allegedly defaming and peddling untruths against him.
At exactly 9am at the Kumasi High Court three (3) on Friday, Justice Kwamena Baiden, a Court of Appeal Judge sitting as additional High Court justice called the case.
Dutifully, Lawyers of the defendant and the defendant himself, Hon Enoch Sarfo Asiedu, Assembly member for Obuasi responded.
However, when the Judge called out for the Plaintiff, Andy Appiah Kubi, there was no response or a representation of him forcing proceedings to a halt.
The Judge noted that it was puzzling that the plaintiff did not show up or cause for a representation to come to court. The Judge therefore awarded a cost of GHC1000 against the plaintiff and adjourned the case to October 19th, 2023.
Response:
Addressing the media, Lawyer Prince Owusu Agyemang speaking for the defendant said together with his three colleagues they were ready to argue out the case brought against their client.
He noted that it was surprising that after serving the suit on them they could not find the plaintiff in court for the hearing to properly begin.
Lawyer Agyemang, who is from the SK Boafo Chambers said the case of his client was straight forward and they would show why he didn't do anything untoward.
He noted on the adjourned date they will come back to court to argue the matter out and hoped that the plaintiff would show up since this was his case.
Demonstration:
Meanwhile moments after the court proceedings some youth numbering about 50 with some placards appeared at the court premises.
Some of them read ''Appiah Kubi you are a dictator'', ''show us what you did with your common fund'', ''7 years in government 7 court cases'' and ''Asante Akyem North needs development''.
Speaking to the media, Samuel Atia bemoaned the treatment their MP has subjected them to anytime they called for accountability.
''Anytime we call on Hon Andy Appiah Kubi to account for his stewardship having been in office for almost 7 years he threatens us with a court suit and today's case is the 7th time he had sued someone for asking him to account for what he has done with the MPs common fund", the spokesperson stated.
Source: Ghana/otecfmghana.com/Michael Ofosu-Afriyie, Kumasi