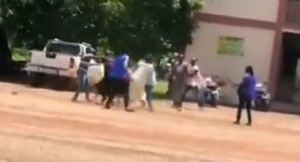 犀利士
Scene of the fight at the Atebubu-Amantin Municipal Assembly
There was a chaotic scene at the Atebubu-Amantin Municipal Assembly as members of the New Patriotic Party (NPP) tried to chase out the Municipal Chief Executive (MCE) of the municipality, Edward Owusu, on Friday, July 14, 2023.

According to a news report by UTV, the NPP members who were going to chase out the MCE were met with stiff opposition by his supporters.

This, the report indicated, resulted in a serious fight among the NPP supporters.

A video of the incident, shared by UTV, showed at least 10 men landing blows at each other in front of the assembly.

Edward Owusu was appointed by President Nana Addo Dankwa Akufo-Addo to be the MCE of the Atebubu-Amantin Municipality in 2017.

Reports indicate that in 2021, the resident of the municipality called on the president not to reappoint because they were not happy with some of his actions.