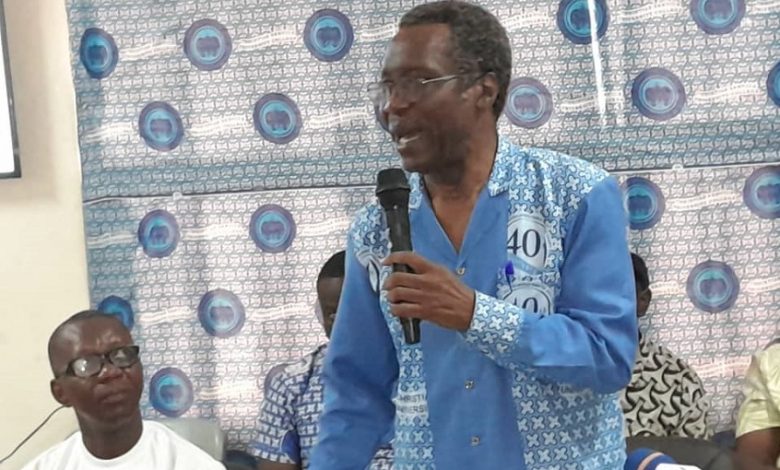 Professor Sam Kofi Afrane, President of Christian Service University College (CSUC) addressing the media
The Christian Service University College (CSUC), a Christian focused private University in the Ashanti Region would celebrate its golden jubilee (50 years) since its establishment in September 2024.
Addressing the media at the school's conference room Wednesday morning, President of the University, Professor Sam Kofi Afrane said, ''the grace of God is what has kept the school from 1974 till now''.
The President noted that the school has since its establishment been focused on its mandate which is to train people with Christian principles and values so they could contribute to the development of the society wherever they find themselves after school.
''We intend to use the upcoming launch and anniversary celebrations to look into the history of CSUC, discuss the challenges we face and also celebrate the school's achievements'', the President posited.
Details:
Giving more details, the President said the school would be carrying out a one year long of activities including public lectures, naming of blocks after persons who have brought honor to the university since leaving campus as well as the initiation and commissioning of symbolic projects and others.
He said the CSUC would be commemorating the golden jubilee under the theme ''CSUC@50, Achievements and Prospects''.
The anniversary celebrations, he mentioned, would be formally launched on campus on the 22nd of September, 2023 where the official logo and clothing for the same would be out-doored to the public.
The President mentioned that eight (8) committees including the Central Planning Committee would be carrying out the planning and mobilization as well as coordination of affairs for the grand celebration in September 2024.
Achievements and Challenges:
The President said CSUC from the time it was established has had to live within its means by using internally generated funds to carry out its operations.
Starting with about three lecturers in 1974 where about 100 people had enrolled for courses it offered in Christian Theology, Prof Afrane said the school could now boast of training about Eight Thousand persons in the country who were contributing in all fields of career.
Currently, he stated the challenge the school was facing was staff retention since many who get better offers choose to leave.
He however noted that the school was doing everything it could do to recruit and retain the best persons as management staff, lecturers and workers
The President also noted that the school was pursuing means to get a Charter status so it could offer its certificates and carry out activities without having to resort to the supervision and directions from any quarters.
Present at the media engagement were the Vice President and other management staff as well as members of the Central Planning Committee for the 50th anniversary celebration.
Source: Ghana/otecfmghana.com/ Michael Ofosu-Afriyie, Kumasi.