Politics
Alan K is The Hope Of Ghana's Youth – Asokwa MP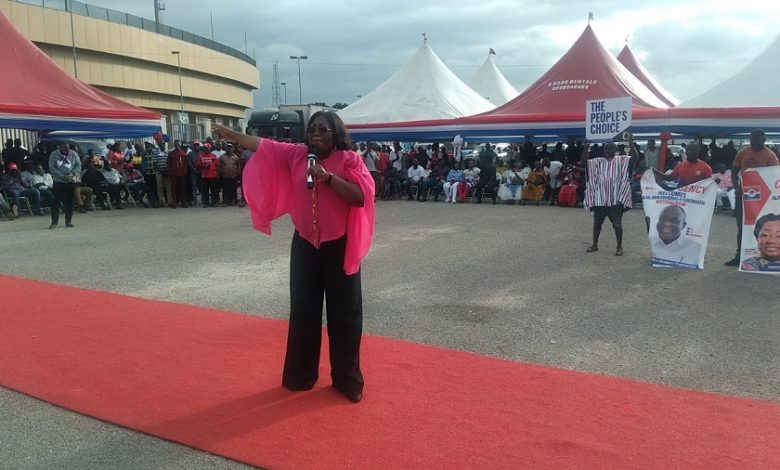 Madam Patricia Appiagyei, Member of Parliament for Asokwa addressing delegates of the party during the visit by Alan Kyerematen
The Member of Parliament for Asokwa, Madam Patricia Appiagyei says the only flag-bearer aspirant in the NPP who exudes hope for the youth of the country is Mr John ALAN Kwadwo Kyerematen.
Addressing delegates of the party from Asokwa, Subin and Oforikrom during the cluster meeting organised to welcome Mr Kyerematen who is on a six day campaign in Ashanti, Madam Appiagyei said from his days as Trade Minister in both President Kufuor and Akufo-Addo's government Alan K had shown to have the interest of the youth at heart.
She noted that during the flag-bearer's days as Minister, starch, sugar, textiles and other industrial jobs were created.
"In Alan Kyerematen the youth of Ghana have hopes of securing jobs after school because they have been witnesses to many jobs he created as Trades MInister including the over 192 one district one factory module across the 16 regions of Ghana ", Madam Appiagyei stated.
Support:
Madam Appiagyei, who is a third term MP for Asokwa rallied the youth of the country to support the bid of Mr Kyerematen.
She also urged NPP delegates especially the youthful elements as well as the aged who desire to see the populace have jobs to do to show support to the former Trades Minister.
Asokwa Constituency, Madam Appiagyei stressed was confident to have jobs for its youth when Alan Kyerematen becomes flag-bearer and President of Ghana in 2025.
"For us in Asokwa we have been beneficiaries of the one district one factory initiatives Mr Kyerematen started during his term as Trades Minister and so we are convinced the youth in our constituency would have jobs to do when he is elected flag-bearer of NPP and subsequently President of Ghana in 2025", Madam Appiagyei intimated.
Other Speakers:
Mr Michael Adusei, Subin Constituency Chairman addressing the delegates asked them to analyse the message of Mr Kyerematen and make a decision out of same.
He noted that the NPP believes in democracy and this gives delegates opportunity to listen to all who put themselves up for positions in the party.
Mr Edmund Kyei, 1st Vice chairman for Asokwa NPP commended the delegates for showing up to listen to Mr Kyerematen in their numbers.
He noted that for the NPP, members believe in the beauty of ideas sharing and out of which they take the decision on who to vote for based on their convictions.
Response:
Mr Kyerematen thanked the three constituencies for their show of support.
He noted that since 2007 when he desired to lead the party, Asokwa, Subin and Oforikrom have been very instrumental in his bid.
He rallied them to show much more support this time around and vote massively to elect him to lead the NPP.
"I have every confidence in you that you would endorse me to lead the NPP because of you have aware of my plan to provide jobs for the people and prosperity for all Ghanaians", Mr Kyerematen posited.
Source: Ghana/otecfmghana.com/Michael Ofosu-Afriyie, Kumasi.