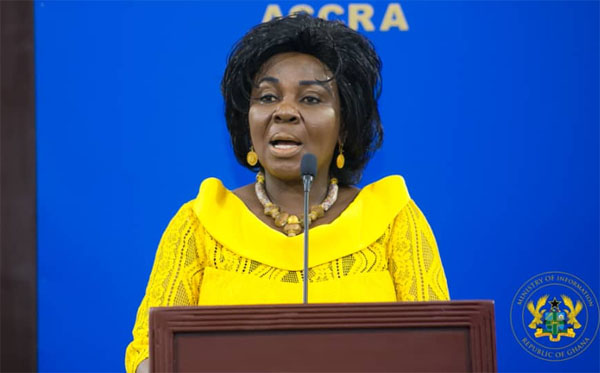 The legal team of the former Minister of Sanitation and Water Resources, Cecilia Abena Dapaah has written to the Multimedia Group demanding an unqualified apology for making "false statements" alleging $5 million and GH¢48 million were found in her Prudential Bank accounts.
Madam Dapaah's lawyers said despite the Office of the Special Prosecutor (OSP) rebutting the reportage, the Multimedia Group continued to publish the alleged falsehood across its various social media platforms.
It was reported on August 10 that the OSP discovered a substantial sum of US$590,000 in cash during the search conducted at the Abelemkpe residence of the former Minister.
The report added that an astounding amount of GH¢2.7 million in cash was also discovered at the same address.
The Special Prosecutor subsequently froze seven accounts belonging to the former minister.
After the report came to the public domain, some media houses including Joy News said their sources at the OSP claimed that $5 million and GH¢48 million were found in the former minister's bank accounts.
Lawyers of Madam Dapaah in their letter to the Multimedia Group said the narrative was corrected by a statement from the OSP but despite that, the media house continued with publications on the matter laden with malice.
"Despite this rebuttal, at 7pm of 10th August 2023, your outfit continued to post material alluding to the false statement that $5m and GHS48m had been found in our client's bank accounts."
Cecila Dapaah is thus demanding a retraction and apology else she will drag the media house to court.
"We are by this letter demanding that your outfit retracts the false information it has published and apologizes to our client within three (3) days from the delivery of this letter (using the same means and coverage with which it published the false information), failing which we have our client's firm instructions to institute legal action and bring the full force of the law to bear on your outfit for the damage and injury your reportage has caused and keeps causing," the letter demanded.