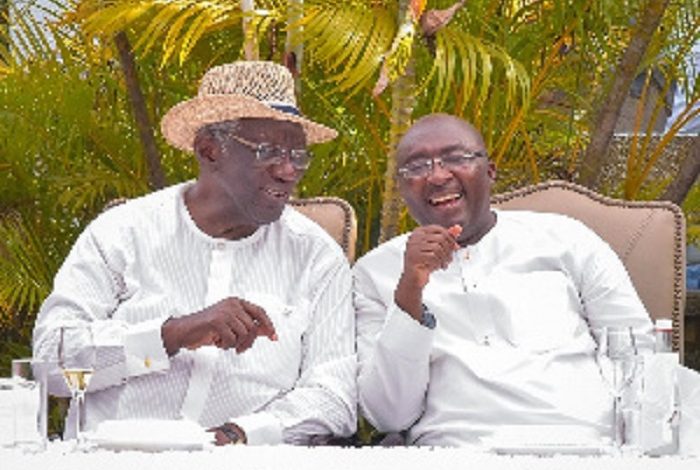 Dr. Mahamudu Bawumia, Vice President with ex-president John Agyekum Kufuor
President John Agyekum Kufuor told then economist with the Bank of Ghana, that the young Mahamudu Bawumia will go far.

This was after Bawumia had intervened to explain one of Ghana's key ecoenomic policies at an event in London where the president was leading a government delegation that included BoG officials.

Vice President Bawumia as part of his campaign for the New Patriotic Party flagbearership race, recounted the sequence of events as he reiterated his thanks to Kufuor for his role in the veep's civil service and political life.

One of the organizers of the event was talking down Ghana's economy at the time and young Bawumia offered to make an intervention which he was granted the oppotunity.

"But at a point I sensed that some things he was saying about Ghana's economy was not correct so I requested to be given the opportunity to speak, and thankfully my request was granted," he recalled.

The atmosphere in the room changed, Bawumia stressed, explaining to NPP delagates in Takoradi that his intervention had caused people to better understand what the economic policy of the Kufuor's government really was.

"So during the break time President Kufuor sent for me and when I went, the former president told me: 'Young man, you have done well, keep it up, you will go far'.

"Just the same week after we returned to Ghana President Kufuor appointed me to the board of Ghana Telecom," he revealed.

Bawumia is among 10 candidates vying to become flagbearer of the ruling party. The NPP will hold a super delegates conference to prune the number of aspirants down to five before the final election in November 2023.