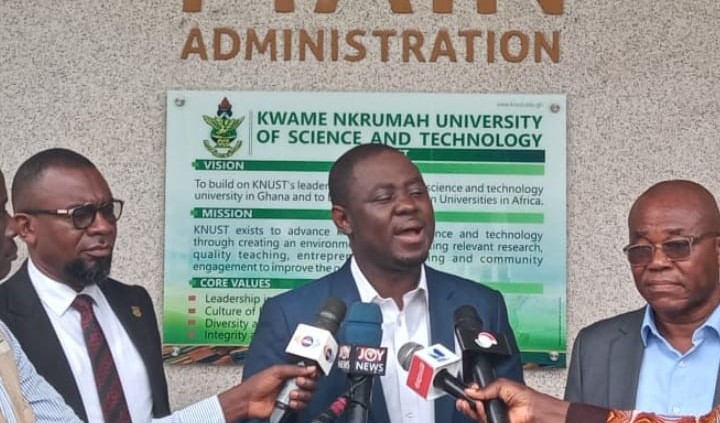 The Driver and Vehicle Licensing Authority (DVLA) is partnering with the Kwame Nkrumah University of Science and Technology (KNUST), to train and provide drivers' licenses to students at the university, while they are still on campus.
The objective of the 'Tertiary Drive Initiative' is to ensure that all interested students at the university graduate with a driver's license.
The aim was to provide a package that would give the students additional skills and extra advantage on the job market while easing the struggles that were often associated with the acquisition of a driver's license after graduation.
The initiative would also offer students who already have their driver's licenses, to build their capacities for renewals and upgrading at their own schedule, without compromising the integrity of the system.
Mr Abraham Surazu Zaato, the Deputy Director of Research, Business Development and Innovation at the DVLA, told the Ghana News Agency after a meeting with the authorities of KNUST that, driving was a science and for that reason, it was important to collaborate with the university to ensure that the sciences were properly developed.
He said the initiative would be done in a way that sought to respond to future driving needs of graduates.
He said, over the years, the DVLA had changed the definition of a driving license to include capacity building and that, it sought to focus on staff training to administer its critical mandate in the future with a focus on the tertiary drive initiative.
Mr Zaato explained that, as the technology and innovation hub, the KNUST was the best university to start with the project.
He pointed out that the management of DVLA was happy that the authorities of KNUST had already constituted a technical committee to help develop and sign a Memorandum of Understanding (MOU) with DVLA for the project to start.
Dr Daniel Norris Bekoe, Public Relations Officer (PRO) of KNUST, said the management of the university was happy that the campus would serve as a centre of excellence in the training of drivers.
Already the University had been in talks with DVLA to expedite actions to ensure that the centre was done as soon as possible, he said.
Dr Bekoe said the university had allocated land close to the Teaching Hospital and hoped the MOU would be done soon for the commencement of the project.