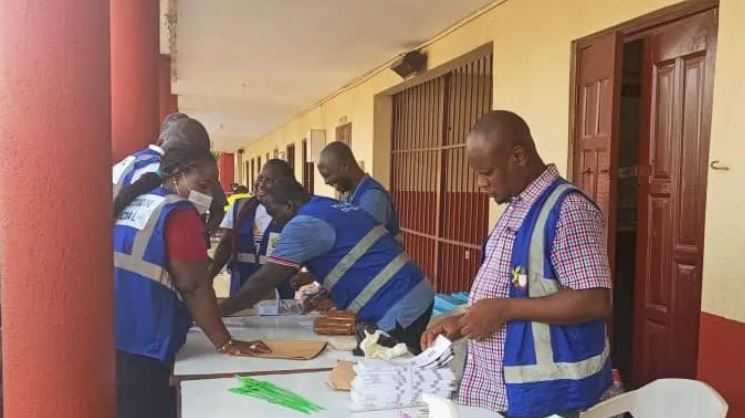 The Electoral Commission (EC) has announced that it will proceed with the Limited Voters Registration Exercise on Tuesday, September 12, 2023, despite the National Democratic Congress and four other political parties' injunction application against the commission.
This was contained in a statement issued by the EC on Monday, September 11.
The EC in its statement stressed that the registration will take place in all its 268 District Offices.
"The Electoral Commission wishes to inform the General Public that the 2023 Voters Registration Exercise begins on Tuesday, 12th September 2023 and ends on Monday, 2nd October 2023.
"Persons who have attained the age of 18 years since the last registration exercise and those who for one reason or the other did not register in 2020, should visit the District Office where they reside with either their Ghana Card or their Ghana Passport. Eligible applicants who do not possess any of the identification documents listed above are required to present two (2) persons who are already registered voters to guarantee their registration".
Five political parties – NDC, the Convention People's Party (CPP), the All People's Congress, the Liberal Party of Ghana and the Great Consolidated Popular Party – filed the suit on September 7, challenging the EC's decision to restrict the upcoming voter registration exercise to its district offices.
They argue that the decision will disenfranchise many eligible voters, especially those who live in remote areas.
The Supreme Court was expected to have scheduled a hearing for the application within a few days of its filing, but it has yet to do so.
The court was expected to have given a date for the application, but it's yet to do so.
Former President John Dramani Mahama on Monday expressed anger over the Supreme Court's delay in scheduling a hearing for an injunction application filed by the National Democratic Congress (NDC) and four other political parties against the Electoral Commission (EC) on the limited voter registration.
Mr Mahama in a Facebook post stated that "Contrary to the time-honoured practice of the Registrar of the Supreme Court giving dates for applications to be moved, the Registrar has, as of this afternoon, refused to give a date for the application for interlocutory injunction filed against the Electoral Commission (EC) in relation to the Commission's decision to limit the upcoming voter registration exercise to its district offices only.
"The writ and the injunction application were duly filed at the Registry of the Supreme Court on Thursday, 7th September 2023, at 2:50 p.m.
"The Registrar informed the applicants' representatives that they were awaiting the date to be given by the Chief Justice, who was outside the jurisdiction at the time. The Chief Justice returned and travelled to Cape Coast for the Bar Conference. As I write, the applicants' representatives are still waiting at the registry of the Supreme Court".