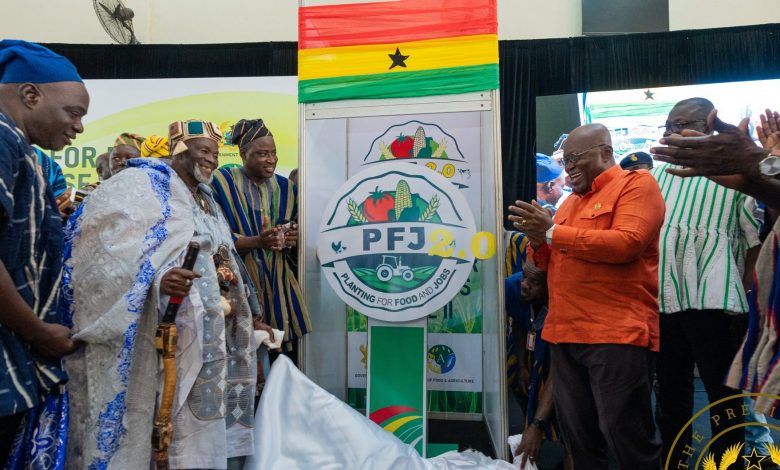 The President of the republic of Ghana, Nana Addo Dankwa Akufo-Addo is courting support from Chiefs to release arable lands for the successful implementation of the Phase II of the government's flagship Planting For Food and Jobs programme.
The president has urged traditional authorities in the country provide farmers in the country with large scale commercial farm lands to help food production in the country.
He said this on Saturday September 9, 2023 while engaging the National House of Chief on ways to make the programme successful, at their headquarters in Kumasi
"Total agricultural farm lands in Ghana stands approximately 15.7 Million hectors, and most of these lands belongs traditional authorities, and that is why I am here".
"As custodians of our land I am appealing to you, "Nananom", to release farm lands to facilitate large scale commercial farming in Ghana"
"I must say, that, the huge cost of paying for land upfront discourages large scale agricultural activities in the country"
President Akuffo Addo underscored the need to prioritize food security which has been challenged by the impact of climate change.
He assured the chiefs of government's commitment to ensuring that, good is always available on the country for the citizenry.
In his response, the President of the National House of Chiefs, Ogyeahohuo Yaw Gyebi
II, pledged to support government and the farmers to increase their productivity and income by making lands available for farming activities.
The Paramount Chief of the Sefwi Anhwiaso Traditional Area in the Western North Region assured President Akuffo Addo that, chiefs in the country will contribute their quota for the successful implementation of the Phase II of the government's flagship Planting For Food and Jobs programme.
He however appealed to all the chiefs in Ghana to liaise with government and find ways the programme will support farmers in their traditional area for the purpose of job creation and provision of food to improve food security in Ghana.
About PFJ 2.0
President Nana Addo Dankwa Akufo-Addo on Monday August 28, 2023, launched the second phase of the Planting for Food and Jobs programme.
The initiative, PFJ 2.0, known as the Input Credit System, will provide affordable and timely credit specifically designed to meet the needs of farmers.
Through this system, the government aims to improve access to agricultural inputs, foster the adoption of modern farming practices and technologies, and ultimately catapult the agricultural sector to new heights.
Source: Ghana/otecfmghana.com/Jacob Agyenim Boateng