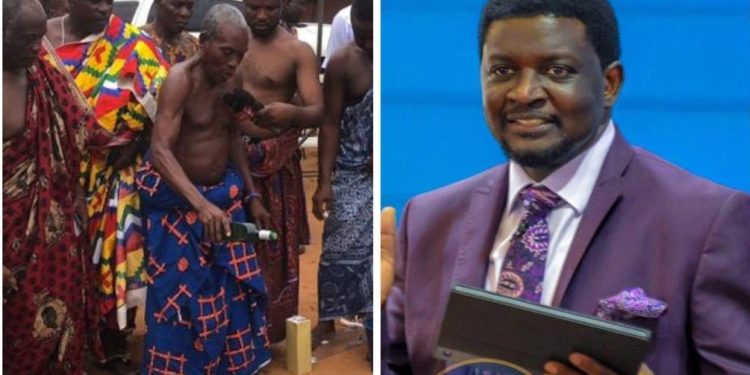 The National Peace Council (NPC) has challenged the spokesperson of the Nogokpo Traditional Council, Nufialaga Mawufemor Kobla Nornyigbey, for claiming that some chiefs mediating the impasse between Perez Chapel Founder, Bishop Charles Agyinasare and Nogokpo had been bribed by the Council.
In a publication by a number of news portals on October 26, 2023, Nornyigbey reportedly claimed that Torgbiga Adamah III, the Paramount Chief of Some Traditional Area and President of the Some Traditional Council, had been compromised after a visit from the NPC.
Nornyigbey also reportedly called for the scrapping of the NPC, alleging that the Council's actions did not align with the pursuit of peace.
The NPC dismissed Nornyigbey's claims saying they are "not only false and unsubstantiated but totally unconscionable."
In a rejoinder, the Council said that it had engaged all relevant stakeholders to work out a peaceful resolution to the impasse following Agyinasare's statement describing "Nogokpo as the demonic headquarters of the Volta Region" in May 2023.
The Council said it spoke with the Chief of Nogokpo, Torgbi Saba V, on June 5, 2023, and issued him a "conflicts complaint form", which he completed and returned on June 9, 2023.
The Council also said that an eight-member team of the NPC engaged the Some Traditional Council on June 29, 2023, led by Torgbiga Adamah III and his 13-member Traditional Council team, including Torgbi Saba V of Nogokpo and Torgbi Atsu-Gledza of Nogokpo-Agbakofe.
The NPC stated that Nufialaga Mawufemor Nornyigbey was absent from the meeting, which was held in an open space with over twenty people present. The Council denied meeting Torgbiga Adamah III in private or separately from the main meeting.
The NPC thus called on Nufialaga Mawufemor Nornyigbey to "retract and apologize for his false and damaging statements."