Featured
Local News
Akufo-Addo directs MoH, NHIA to develop a plan to fund kidney treatment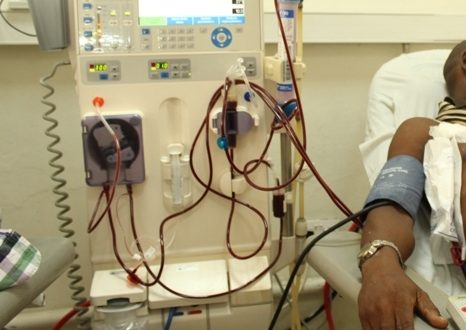 President Akufo-Addo has directed the Ministry of Health and the National Health Insurance Authority (NHIA) to develop a comprehensive plan on how the state can best fund kidney treatment.
This was revealed by Information Minister Kojo Oppong Nkrumah after a group of medical doctors under the umbrella body of the Private Health Facilities Associations petitioned the government on the dialysis crisis that has hit the country in recent times.
"When the matter came up the President instructed the Health Authorities to examine it and come to the table with various recommendations on how to deal with it and I do know those recommendations are due in the next couple of weeks. By both I mean the National Health Insurance Authority and the Ministry of Health."
The Vice President of the Association, Dr Samuel Boakye Donkor, also called on the government to consider a tax waiver on all medical equipment, including dialysis machines, brought into the country to help treat patients.
"The number of kidney cases is alarming, it keeps increasing daily. We want to get more machines so we can treat our Ghanaian people but it is really expensive to get the machine into our country. When they get to the port the amount of money you have to pay, the duties you have to pay, so we are pleading with the government if tax waiver will be granted so we can bring more."
Patients on dialysis treatment in Ghana recently lamented when the Korle-Bu Teaching Hospital's Renal Dialysis Unit on Wednesday, September 27 announced an increase from GH¢380 to GHS¢765.42 per dialysis session.
48 hours after Ghanaians became outraged over the new renal dialysis price, the hospital reversed its decision.
However, the renal unit at Korle-Bu has been closed to outpatients since May. The unit was reportedly closed due to a shortage of consumables.
The Renal Patients Association of Ghana has called on the management of the Korle-Bu Teaching Hospital (KBTH) to reopen the renal unit to outpatients, warning that patients are dying due to the closure.
The call comes after the minority caucus of the Health Committee of Parliament gave the hospital a 24-hour ultimatum to reopen the unit, but the management refused.