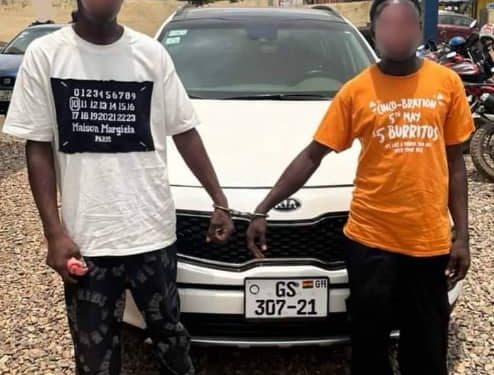 John Allister, the houseboy who made headlines for allegedly murdering his employer, Stella Osei aka Princess Afua Ahenkan, in Apaaso near Sokoban in the Ashanti region, has pleaded guilty to a separate case of stealing over GH¢167,000 from a hotel owner, myjoyonline.com reports.

Allister, 22, was employed by Stella Osei for only six days before allegedly committing the murder.

Along with his accomplices, he is accused of selling a KIA Sportage vehicle belonging to his employer and stealing bags of rice, cooking oil, and other assorted items from her home. It is alleged that he used some of the proceeds from the sale of the car to purchase a Toyota Vitz, registered as GS 3107-23.

In his latest case, Allister pleaded guilty but offered an explanation to two counts of stealing, contrary to Section 124(1) of the Criminal Offences Act 1960, Act 29/60, before the Asokwa Circuit Court. He claimed that he had worked as a receptionist at a hotel.

According to the prosecution, led by ASP Stephen Ofori, Allister was employed as a hotel receptionist in Bantama in 2022. After just a month of working with the complainant, the owner of the hotel, he stopped going to work without explanation.

In July 2023, Allister returned to the complainant seeking employment for the second time. Due to their previous working relationship, the complainant allowed him to start work immediately.

On August 6, 2023, the complainant gave her Infinix Note 8 mobile phone to Allister to assist her with some settings. However, Allister allegedly fled with the mobile phone and subsequently withdrew an amount of GH¢167,660 from the complainant's ABSA Bank account using the mobile app on the stolen phone.

Concerned about the situation, the complainant reported the matter to the police for investigation. Allister was subsequently arrested from his hideout in Accra.

ASP Stephen Ofori informed the Asokwa Circuit Court, presided over by Her Honour Vida Yeboah, that Allister admitted to the offence and provided police investigators with details of how he spent the stolen amount, which included renting and furnishing an apartment.

Allister is expected to appear before the Asokore Mampong District Court on Tuesday, October 3, 2023, for further proceedings.