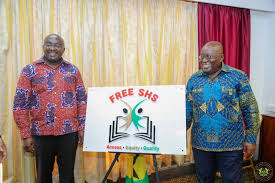 "It is important to state that no Government, in the history of the 4th Republic, has done more for the growth of the education sector than the Akufo-Addo Government, and the numbers back this claim. The total allocation to the education sector, since I came into office in 2017, is one hundred fourteen billion, five hundred million, six hundred twelve thousand, one hundred and thirty-five cedis (GH¢114,500,612,135), of which twelve billion, nine hundred and sixty-one million, two hundred and eighty-four thousand, five hundred and forty-eight cedis (GH¢12,961,284,548) has been spent on senior high schools."
These were the words of the President of the Republic, Nana Addo Dankwa Akufo-Addo, when he delivered an address at the 61st Annual Conference of Heads of Assisted Secondary Schools (CHASS), at Achimota School, Accra, on Wednesday, 11th October 2023, where he outlined his government's record in office in the education sector.
According to President Akufo-Addo, his government's unwavering commitment to education has led to the attainment of significant strides in the areas of access, quality, and relevance, making Ghana a beacon of progress in the region.
"At the Senior High School level alone, of which there are nine hundred and twenty-five (925) schools, we have initiated a total of one thousand, one hundred and five (1,105) projects, including accommodation, teaching and learning related projects from 2017 till date. Out of this total, four hundred and six (406) are classroom blocks of various types, science laboratories and home economics blocks; three hundred and eighty-six (386) are dormitory blocks; two hundred and thirty-three (233) are toilet facilities; with nine (9) newly constructed model STEM senior high schools spread around the country," he stated.
He continued, "Two hundred and eighty thousand (280,000) laptops for teachers, three hundred and fifty (350) buses, eight hundred and forty (840) pick-up vehicles, one thousand five hundred (1,500) motorcycles, and six hundred and seventy-seven thousand, four hundred and seventy (677,470) pieces of furniture have been distributed since 2017. Four hundred and fifty thousand (450,000) tablets, in the 1-laptop-1-student policy, will also be distributed soon."
Kindergarten, Primary & JHS
In kindergarten schools, the President stated that his government has invested significantly in teachers, equipping them with modern methodologies tailored for early childhood development, and has provided age-appropriate learning materials, play equipment, and resources for interactive and engaging learning experiences.
"Through GETFund, we are executing one thousand, two hundred and seventy (1,270) infrastructure interventions, setting new standards for early childhood education. These schools boast cutting-edge technology, including smart boards, to enhance interactive learning experiences. I am pleased to report that a substantial number of these projects are nearing completion, and, by early 2024, they will be fully operational," he said.
At the primary school level, President Akufo-Addo indicated that Government has ensured the consistent provision of learning materials and embarked on targeted infrastructure upgrades to create conducive learning environments.
"The implementation of National Standardized Tests for Primary 2 and Primary 4 pupils is a pivotal step towards assessing and improving learning outcomes. It is gratifying to note that proficiency in reading for Primary 2 students has seen a significant improvement, from two percent (2%) in 2015 to thirty-eight percent (38%) in 2022," he added.
President Akufo-Addo told the members of CHASS that his Government's Model Junior High Schools project, supported by the Arab Bank for Economic Development in Africa, is ensuring the construction of eleven (11) model schools, each designed with modern amenities to provide an optimal learning environment.
The President noted further that the Ghana National Digital Literacy Project (NDLP) is ensuring that every student is equipped to thrive in the global digital economy.
"The heart of this endeavour lies in our primary schools, where the foundation of learning is laid. Phase I focuses on establishing SMART LABs in seven hundred (700) public schools across the nation. These labs are equipped with a suite of tools, including tablets for students, laptops for teachers, content access points, projectors, robotics kits for STEM education, and essential storage and charging units", he said.
President Akufo-Addo continued, "I am pleased to announce that the project has successfully delivered Smart Lab hardware to some four hundred and eighty-five (485) schools across all sixteen (16) regions of Ghana. This great achievement ensures that the technological infrastructure is firmly in place to facilitate digital learning."
Phase II of the Project, he noted, "is poised to extend the impact further. Contingent on the success of Phase I, our goal is to establish a SMART LAB in each of the twenty-seven thousand and sixty-four (27,064) schools across Ghana, accompanied by comprehensive training for two teachers per school."
Phase III, he told the gathering, is a visionary step towards self-reliance, adding that "we aim to establish a local plant dedicated to assembling and manufacturing the devices necessary for the SMART LABs. This initiative not only bolsters our technological capabilities, but also provides avenues for job creation and economic growth."
SHS
At the Senior High School level, in tandem with the National Digital Literacy Project, the President stated that the e-Transform Ghana project stands as a beacon of progress.
With an investment of ninety-seven million United States dollars (US$97 million), Government is enhancing service delivery through ICT. Among its many facets, the e-Education component promises to establish computer laboratories in three hundred and five (305) public Senior High Schools in all the regions of the country.
These labs, according to the President, will be equipped with cutting-edge technology, fostering an environment where students can immerse themselves in the digital realm.
"As we open tenders tomorrow, on 12th October, for the equipment in the remaining two hundred and thirty-two (232) Senior High Schools, and with contracts already signed for seventy-three (73), we are well on our way to bridging the digital divide," he said.
The President continued, "Our commitment to every student's journey into the Fourth Industrial Revolution is unflinching. The "One Student One Tablet" initiative is evidence of our belief in the transformative power of technology. By repositioning our educational system, we are nurturing a generation of empowered Ghanaians armed with the skills essential for our economic prosperity," he stated.
TVET
Touching on Technical Vocational Education and Training (TVET), President Akufo-Addo stated that TVET education has seen a comprehensive modernisation and expansion drive, with new state-of-the-art facilities under construction, with existing undergoing renovation and upgrading.
The Dual TVET Method, he explained, is combining classroom learning with practical, on-the-job training, is revolutionising skills development in the country, ensuring learners are well-prepared for their chosen fields.
"A comprehensive review of TVET curricula has also been undertaken to align them with current industry demands and emerging technologies. This process involved collaboration with industry stakeholders to identify the skills and competencies needed for a rapidly evolving job market. The revised curricula aim to equip students with practical, job-ready skills that are in high demand," he added.
Tertiary
President Akufo-Addo noted that, over the past four years, his government's commitment to expanding higher education has borne fruit, with the establishment of new institutions catering to a diverse range of academic disciplines.
These institutions, he stated, are strategically located to ensure equitable access to higher education opportunities for students from all regions.
"Among the proposed universities are the University of Engineering and Applied Sciences in Akrodie in the Ahafo Region, Mampong University in the Ashanti Region, and Bunso University in the Eastern Region," he said.
Additionally, the University of Health, Culture, and Life Sciences in Kintampo, in the Bono East Region, formed through the merger of the Kintampo College of Health and Well-being and the Kintampo Research Institute, stands as a testament to his government's dedication to fostering excellence in education.
"These new universities are expected not only to provide high-quality education, but also stimulate economic growth and development in their respective regions. They will serve as hubs for collaboration between academia and industry, creating a dynamic environment for learning and innovation," he said.
Furthermore, the President stated that his government's "No Guarantor" policy, under the Student Loan Trust Fund, is breaking down financial barriers for students seeking higher education.
"By eliminating the requirement for a guarantor, we empower students from economically disadvantaged backgrounds to pursue their educational aspirations without undue financial burden," he said.
To align tertiary education with the needs of the job market, the President stated that Government has created partnerships between tertiary institutions and industries.
These collaborations, he explained, provide students with practical training, internships, and research opportunities, ensuring they graduate with both theoretical knowledge and practical skills that are directly applicable in their chosen fields.
Source: Presidency