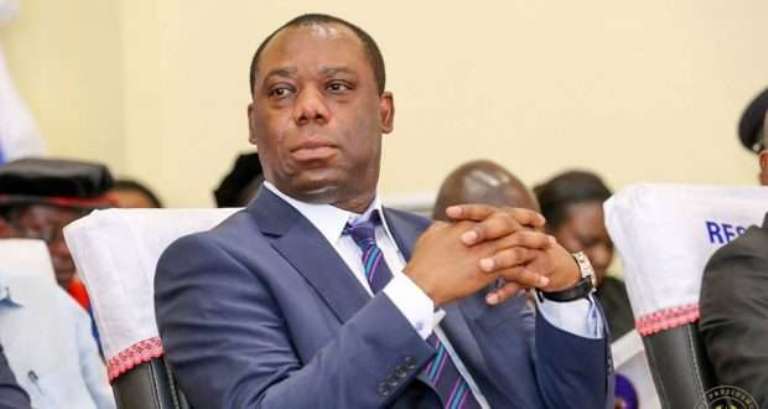 Minister of Energy Dr. Mathew Opoku Prempeh
Sources within the corridors of power have hinted that the Minister of Energy Dr. Mathew Opoku Prempeh known widely as NAPO could be the major target of the impending Ministerial reshuffle.

Though no details have been given on when President Nana Addo Dankwa Akufo-Addo is expected to relieve some Ministers and assign others to new ministries, it has been established it would be soonest barring any last-minute changes.

Deep-throat sources reveal to MyNewsGh.com that the Member of Parliament (MP) for Manhyia South is a possible target of the new changes to be announced. Reasons for the decision have been linked to his recent disagreement with certain deals at certain institutions under the Energy Ministry including Ghana National Petroleum Commission (GNPC) and Ghana Gas.

The irreconcilable differences between the Minister and heads of these institutions is reported to have fueled the President's decision to axe the Energy Minister.


Since his assumption of office on 7th January 2017, President Akufo-Addo has undertaken several 'mini-reshuffles'. However, the impending reshuffle, according to our sources at Jubilee House, "will be expansive in nature."

"Expect the reassignment of some Ministers to different Ministries, expect some new and fresh faces, and expect the promotion of some deputy Ministers to the position of Ministers in this reshuffle," the source revealed.

What is not clear is when the announcement will be made, but sources indicate to the paper that "it will be very, very soon."

Just as he did in the past, President Akufo-Addo is expected to continue his tradition of pre-informing affected Ministers of their continuation in government, whether it is in the same Ministry or in a new Minister or inform them in person about the termination of their appointment.

It would be recalled that the Pro-NPP Newspaper the Daily Statement early this week reported of the impending reshuffle by President Nan Addo Dankwa Akufo-Addo with some prominent names in his Cabinet expected to be dropped.

Sources at the presidency available to MyNewsGh.com indicate that the President is expected to make an announcement of the new ministerial list with some cabinet Ministers expected to be axed after this week's meeting.
Source: mynewsgh.com