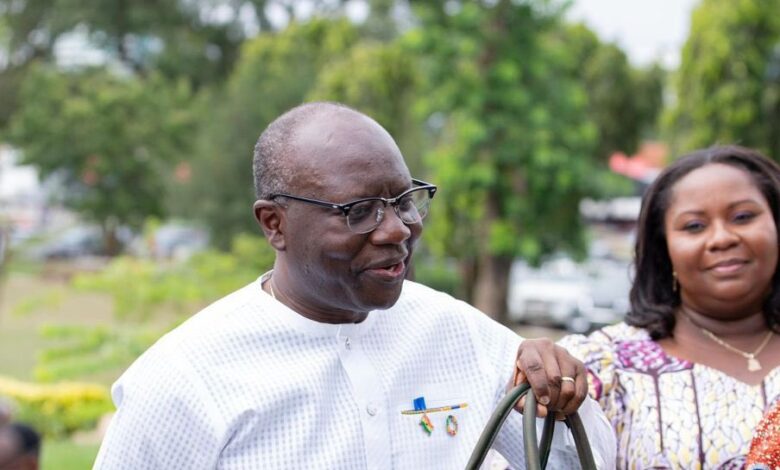 The Akufo-Addo administration has for the past seven years created over 2.3 million jobs, the Finance Minister Ken Ofori-Atta has said in Parliament.
The jobs are approximately 900,000 in the private sector and 1.4 million in the public sector, he said.
Presenting the 2024 budget statement on Wednesday, November 15, Mr Ofori-Atat said "we believe it has been seven years of grace and positive impact. We are determined to do more to boost the capacity of the private sector to expand productivity and create jobs. In the past 7 years, we have: Invested GH¢32.7 billion to keep the lights on and support the growth of businesses and invested GH¢25.3 billion to facilitate the repositioning of the financial sector and enhance its ability to assist business operations.
To date, the Development Bank Ghana has facilitated GH¢1 billion in competitive financing for the private sector, and GIRSAL continues to mitigate risks in the agriculture sector; Supported 100,000 young graduates to secure workplace experience and employment by investing GH¢2.4 billion in NABCO; Invested GH¢7.1 billion to build road and transport infrastructure to improve connectivity and productivity; Invested GH¢541.5 million in 169 1D1F enterprises to scale-up valueaddition and provided 140,000 additional jobs; and vi. Created over 2.3 million jobs in the private and public sectors (approximately 900,000 in the private sector and 1.4 million in the public sector)."
He further indicated that the 2024 Budget is even more significant because the government will cross the GH¢1 trillion Gross Domestic Product (GDP) mark for the first time in Ghana's economic history.
"Let me repeat, Mr. Speaker, Ghana's economy under President Akufo-Addo's final year in office is projected to be valued over GH¢1 trillion in 2024 from the GH¢219.5 billion in 2016," he said.
With such a milestone ahead, he said, the government is protecting, at all cost, the foundation for sustained economic expansion.
"A foundation that has been achieved through the sweat and patience of the Ghanaian people. We pledge to protect this for all our people and especially for private sector growth And we shall do so by ensuring that the enabling factors are in place and accessible to all. These will include reliable energy supply, stable Cedi, lower inflation and lower interest rate regimes, access to private sector credit, infrastructure provision, food security, national security, and inter-continental market linkages through increasing active platforms such as the AfCFTA.
"Mr. Speaker, fundamentally, this is a Government that is self-aware, reflective and has been open throughout the process to incorporating citizens feedback in preparing this Budget, and as in previous years, we have prioritised stakeholder consultations. Consequently, we engaged with and obtained valuable inputs from key stakeholders, including investors, traders, academia, organised labour, civil society organisations, bankers, development partners, faith-based organisations, and a cross-section of the leadership and other honourable Members of Parliament.
"We also launched the Ghana Mutual Prosperity Dialogue on the 2nd November, 2023, a new and innovative platform to deepen our collaboration and partnership with the private sector. The platform aims to enhance the longterm competitiveness of Ghana and increase our attractiveness as a hub for businesses on the continent. This will have a standing committee co-chaired by MOTI/MoF and the Private Sector.
"I want to assure our stakeholders that we have, as much as possible, reflected the proposals and recommendations from these engagements in this Budget. There is much more to be done with the shared ideas and the Mutual Prosperity Dialogues will be a robust and dynamic platform to inform policy," the Minister said.