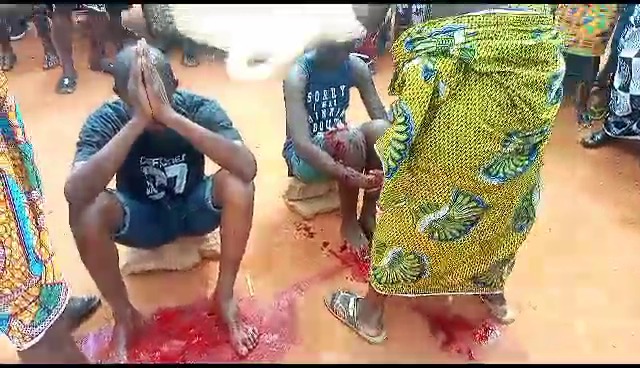 Traditional authorities at Aduaben in the Bosomtwe district in the Ashanti region have performed purification rites for a 40-year-old Fire Service personnel who had sexual intercourse with his daughter.
Alori Benjamin was fined GHC2, 500 and bottles of Schnapps for the purification rituals that took place at the Aduaben Palace on Wednesday, November 8, 2023.
The ritual was supervised by the queen mother of Aduaben, Nana Ama Kyifa II, who is also the Asantehene Adontenhemaa at the Kumasi Traditional Council (KTC).
This purification was necessitated after Alori Benjamin admitted to the offense of incest at Otec FM in September 2023 when he was brought before the 'Asem Beba Dabi' panel.
Performing the ritual by Asantehene Adontenhene Krotihene, Nana Kwabena Appiah, and libation was poured, the sheep were slaughtered and the blood was sprinkled on their heads, in the presence of the community.
The queen mother of Aduaben, Nana Ama Kyifa II, after the rituals advised fathers to desist from such abomination acts to avoid the wrath of the gods.
She warned that incest will not be tolerated in Asanteman and any person found to have been caught will be severely dealt with.
Recounting her ordeal on Otec FM's social program 'Asem Beba Dabi' hosted by Krobea Nana Yaw Asante, on Wednesday, November 8, 2023, the victim (name withheld) said the father had been having sex with her since 2021.
"On the first day, my father confronted me to inquire if I have had sex with anyone which I answered in a negative. To ascertain the truth, my father dragged me into the room and inserted his finger into my private part," she said.
"Not satisfied with his curiosity, he removed my panty and inserted his manhood into my vagina to convince himself that indeed I am still a virgin. My plea and tears didn't stop my biological father from having sexual intercourse with me," she added while crying.
She continued "Since that day my father has been having the sex act with me, more than ten times from 2021 to 2023, and warned me not to tell anyone. I couldn't longer harbor that emotional trauma so I told my Presbyterian Church Pastor."
She further told Krobea Nana Yaw Asante on the show that her mother was informed on the matter by the church member, who in turn asked her husband but the father vividly denied having sex with her own daughter.
The victim's mother has reported the case to the authorities of the Ghana National Fire Service (GNFS) and the Ghana Police Service.
Source: Ghana/otecfmghana.com/Francis Appiah