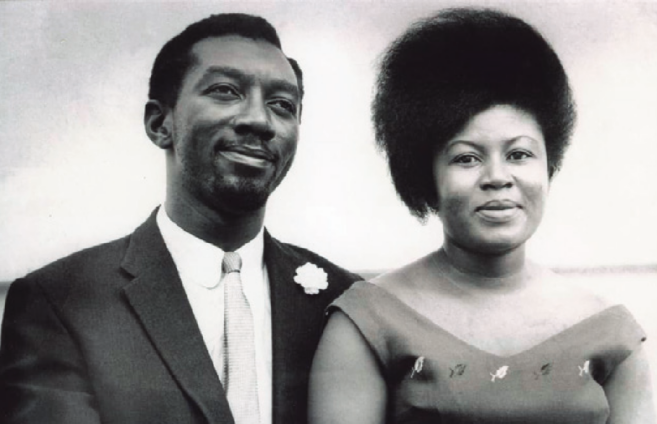 Shortly after what I now perceive as a clearly fore-ordained introduction by our mutual friend Dr Kwame Appiah-Poku, Aba and I met in person on 1 July 1961 at a ball at Battersea Town Hall in London, to celebrate Ghana's first anniversary as a republic.
Aba had just completed nursing school in Edinburgh and was on her way to pursue a midwifery course at the Radcliffe Infirmary, part of Oxford University.
I was also on my way to Exeter College, Oxford, having just passed my Bar exams at Lincoln's Inn in London.
My first impressions of my beautiful Aba were that of a soft-spoken and well-mannered lady; and within a year of bonding and courting, we both discovered that we very much enjoyed each other's company.
Advertisement
We had the same cultural tastes in art, music and cinema and shared similar social
preferences.
Consequently, we decided to tie the knot; and this we did at Brompton Oratory in
Knightsbridge, London, on 8 September 1962.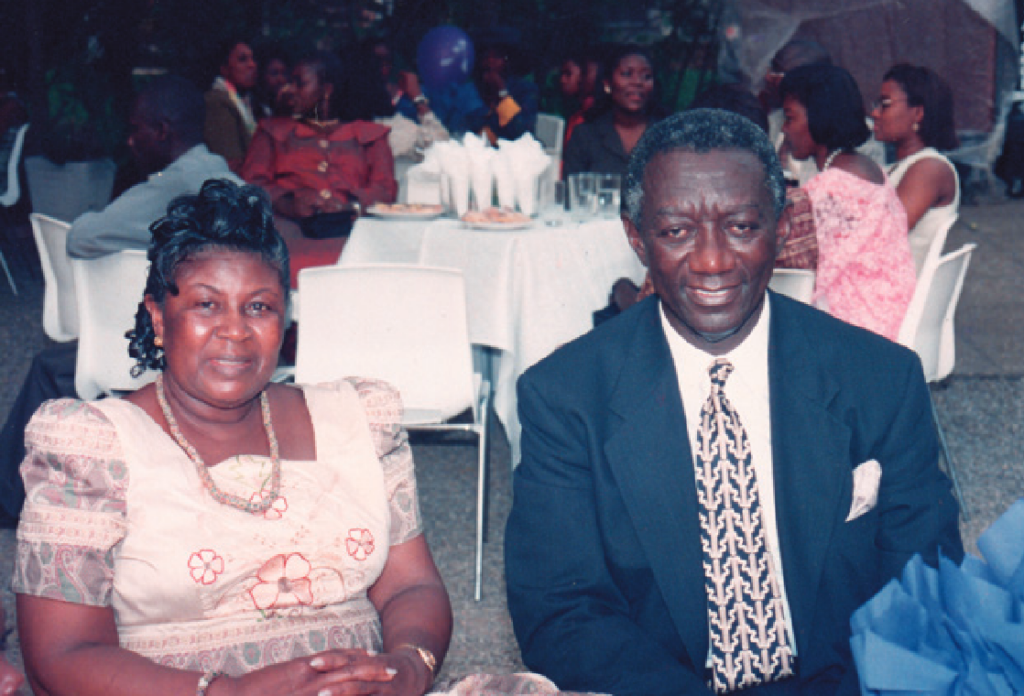 We were joined by Chief, our first male child, on 6 September 1963.
By mid-1964, shortly after completing our studies in Oxford, we moved to London to pursue our respective careers.
Our second child and first daughter, Nana Ama, was born in Golders Green in London on 29 November 1964.
However, due to overwhelming pressure from my family in Kumasi, we decided to return home to Ghana.
Shortly after our return to Kumasi in January 1965, I joined Okomfo Anokye Chambers as a junior lawyer with Victor Owusu as senior partner.
Aba later joined the Kwame Nkrumah University hospital as a nurse/midwife. Soon after that, on 4 November 1965, Aba and I welcomed our third child, Saah, into our rapidly growing family.
Our fourth child, Agyekum, was born on 16 February 1968. By the time he arrived, I was already embroiled in the web of public service.
I had been appointed in 1967 as the chief legal officer and city manager of the second city of Ghana, Kumasi. That was our entry into civic and public life in Ghana.
Aba had a very confident personality that fitted in with ease everywhere we went, and which also allowed her to cope under the most challenging of pressures.
In 1969, I got elected as a Member of Parliament of the Second Republic (for Atwima Nwabiagya in the Ashanti Region).
I then also got appointed as Ghana's Deputy Minister of Foreign Affairs under the premiership of the late Professor Kofi Abrefa Busia.
So, our young family had to relocate from Kumasi to Accra. Aba, to my delight, took our evolving life in her stride as she adjusted effortlessly, and with confidence, to our new milieu of a life in national politics and diplomacy.
Between 1969 and 1971, with both Aba and me in our early thirties, our lives seemed to be on an upward trajectory.
But this was to be truncated with a shocking and unexpected coup d'état on 13 January 1972, which arrested practically all the members of the government and threw us in prison.
Our world had crashed.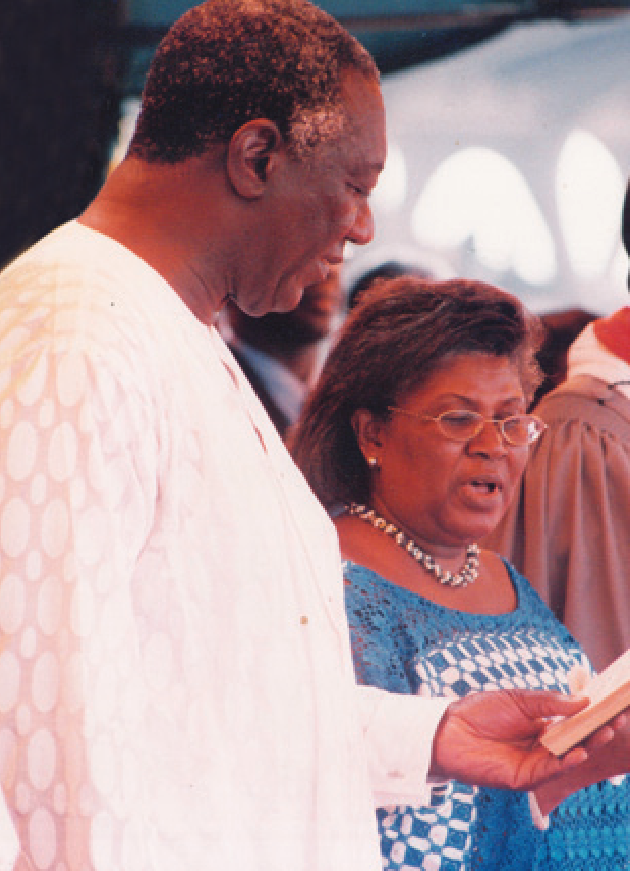 About 54 of us, including cabinet ministers, junior ministers and some Members of Parliament,
would remain in jail for a minimum period of between 12 and 15 months each; having initially
endured – incommunicado, for almost eight weeks – denial of any contact with family or the outside world at Ussher Fort prison.
This angel of a woman, to my amazement, would survive the ordeal of raising five children on her own – in my absence, Aba gave birth to our fifth and last child, Kofi, as a single parent on 16 June 1972.
Her strong and exceptionally disciplined personality did indeed come to the rescue of our family.
I could not have foreseen the crash that befell us and could not, therefore, have made any provision for our ordeal.
However, Aba rose above that. With her strong, prayerful faith in God, Aba's spirit
would not and could not be broken. She survived on very little then; and she truly kept our hopes alive.
When allowed to visit me in prison, she left me with a sense of optimism that was most
assuring.
I survived my incarceration of 15 months largely because of Aba. She was a woman of
sacrifice, devotion, humanity and resilience.
After my release from detention, she returned to practice nursing at Cocoa Clinic, where she rose to the position of the clinic's first-ever matron.
Only once did Aba strongly protest about my absence from home, as my entrepreneurial businesses kept me away for extended periods of time.
Her commitment to our marriage and her exceptional will to be a loving wife, a caring home-maker and a firm but loving parent have produced the fruit of what our children have become today.
She was firm, yet tender.
When I was elected to office as the second President of the Fourth Republic of Ghana, Aba would play a pivotal but quiet role in shaping key social interventions, such as including the kindergarten stage for all the children of Ghana in the Free Compulsory Universal Basic Education policy; the provision of one hot meal a day to primary school children across the nation; the launch of the National Health Insurance Scheme; and the introduction of free maternal care for all.
She also worked tirelessly as the founder of the Mother and Child Community Development
Foundation to support early childhood development programmes across the country.
Her Foundation built three schools and gifted them to communities in Nyanyanor in the Central Region, and in Kotobabi and Amansaman in Accra.
Through her Foundation, she also provided a breast cancer screening unit to a health-care services provider in Sunyani and she assisted bakers in Nsawam and Adoagyiri with baking equipment.
She established a phone-in counselling centre to support and combat the stigmatisation of HIV/Aids patients.
Remarkably, Aba rendered all her community action-based services without seeking any
publicity.
Aba and I shared a gleeful sense of humour, which meant we could laugh at each other; just as we could naturally forgive each other for our unfailing human shortcomings.
She and I embarked on many trips together as I pursued my political career and after I became President.
However, what touched her most during our international trips was the recognition she
received from Pope Benedict XVI, who bestowed on her the prestigious Papal award of Dame of
St Gregory the Great.
Throughout her life, she remained a devout Catholic; a passionate worshipper;
and a chorister of Christ the King Catholic Church in Accra.
Aba, your departure has left an unbridgeable void in my life; but I take solace from the many mercies and blessings the good Lord has showered on our journey of 62 years: living long; the blessing of beautiful children; 14 splendid grandchildren; the honour of having served our nation together; the gift of loving; extended families; and a network of friends around the world.
I am so thankful to the good Lord God for giving you to me as my life partner. Aba, you have earned your good rest and as the words of the Apostle Paul go: "You have fought the good fight, you have finished the race, you have kept the faith.
Now there is in store for you the crown of righteousness, which the Lord, the righteous Judge, will award to you on that day – and not only to you, but also to all who have longed for His appearing."
Fare thee well, Aba. Adieu, my dearest love!