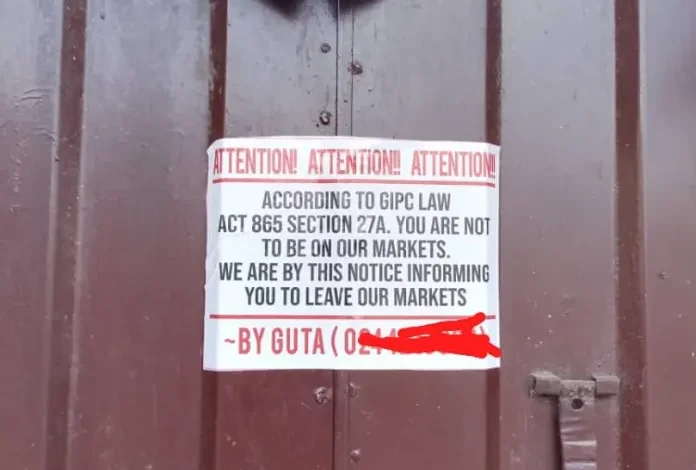 The Ghana Union of Traders Association (GUTA) in the Eastern region has executed an enforcement exercise to close more than 38 retail shops owned by foreigners, primarily dealing in mobile phones, in Koforidua.
This action is in response to what GUTA alleges is the government's failure to fully enforce the Ghana Investment Promotion Act (Act 865), which prohibits foreigners from engaging in retail business in the country.
Mr. Samuel Aikins, the Eastern Regional Vice Chairman of GUTA, expressed his concerns in an interview with the media that the lack of enforcement of the GIPC law is having a detrimental impact on local businesses in the region and the country as a whole.
He pointed out that these foreigners often sold inferior products without considering the interests of consumers.
"Their activities are affecting the economy.Look at the soaring inflation, rapid depreciation of the Ghanaian Cedi, the collapse of the manufacturing sector, escalating shop rental costs, and damage to the export sector, among others" he stated.
He cautioned foreigners engaged in retail trade in Koforidua and parts of the Eastern region to vacate the markets before the upcoming Christmas festivities to avert consequences.
He said the Eastern Regional branch of GUTA will go on rampage to lock up the shops if the foreigners do not comply.
He allayed fears that their action will lead to shortage of goods on the market during the yuletide.
Clashes between GUTA and foreigners engaged in retail business continue to heighten diplomatic tension between Ghana and Nigeria whose citizens have flooded the local market engaging in retail business.
As a result, in 2021 joint communique signed between Ghana and Nigeria during the Extraordinary ECOWAS Summit seeks to address this problem.
This agreement exempted Nigerians from the $1 million minimum capital requirement as stipulated by the GIPC Act 2013, Act 865, which had previously barred them from participating in Ghana's retail market.
The exemption was aimed at resolving a 25-year retail dispute between Ghana and Nigeria, and it was officially presented by Ghana's Speaker of Parliament, Alban Bagbin, to Nigeria's House of Representatives following the summit.
Speaker Alban Bagbin expressed that this intervention marked the conclusion of the retail impasse between the two nations. He highlighted a reconsideration of the 1-million-dollar minimum requirement for trading enterprises under section 28(2) of the Act. The adjustment was intended to facilitate the regularization of the businesses run by affected Nigerian retail traders who had been previously excluded from the market. Furthermore, a special concession was introduced, reducing the stamp duty requirement to 0.5, with the promise that it would not apply to Nigerian traders.
In response to this new arrangement, GUTA strongly voiced its opposition and threatened to resist any amendments to the regulations.
The union's stance is seemingly driven by concerns regarding competition and the potential effects of foreign retailers on the local market.