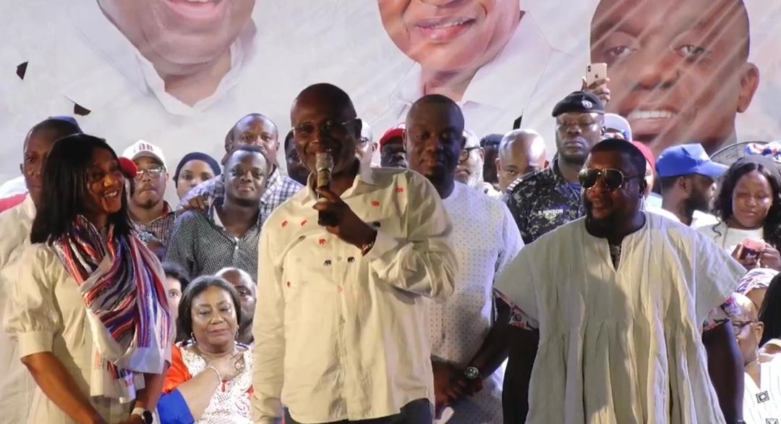 The Member of Parliament for Assin Central and flagbearer hopeful in the just-ended presidential election, Kennedy Ohene Agyapong, has called on the members of the New Patriotic Party (NPP) to work together to give the National Democratic Congress (NDC) a showdown in the 2024 polls.
He also pledged his support to work with the members of the NPP to break the eight-year cycle.
Mr. Agyapong, who disclosed before and during the voting that he would have issues if the elections were rigged, described the elections as "fair."
Accepting the results of the Electoral Commission (EC) and congratulating the winner of the presidential primary, the MP expressed his appreciation to his campaign team for their tireless efforts.
"Indeed, it's a great day today. I believe the party has been fair and transparent. That is the only thing I have already been preaching. And I must admit, this election is fair and my grassroots have spoken. And therefore, I accept the results in good faith. I pledge my support that we are working tirelessly to break the eight. Party members, we are here, we should put everything behind us and let's unite this party. With unity, I believe we can break the eight. I want to assure you, in 2024, the showdown is being translated today. We have to come together and give the NDC a showdown. I want to thank my team for working hard and the party faithfuls who believed in me."
Dr. Mahamudu Bawumia, the Vice President of Ghana, won the presidential primary, setting him up for a showdown with former President and NDC flagbearer John Dramani Mahama in the 2024 general election.
Dr. Bawumia defeated a field of three other candidates, including Kennedy Agyapong, the outspoken Assin Central MP; Dr. Owusu Afriyie Akoto, a former Minister for Agriculture; and former Mampong MP Francis Addai-Nimoh.
Certified results announced by a Deputy Commissioner of the Electoral Commission, Dr. Serebour Quaicoe, revealed that Dr. Bawumia polled 118,210 votes, representing 61.47%, while his closest contender, Mr. Agyapong, polled 71,996 votes, representing 37.41%.