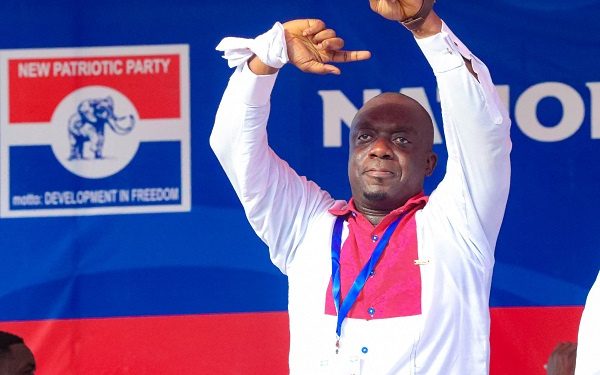 The New Patriotic Party's (NPP) General Secretary, Justin Frimpong Kodua, has said that the election of Vice President Dr Mahamudu Bawumia, a non-Akan, as its flagbearer for the 2024 general election is proof that the NPP is not an Akan-centric party.
"The NPP has made history by electing Vice President Dr Mahamudu Bawumia – a non-akan – to lead the party into the 2024 general elections as its flagbearer," Kodua said. "This shows that the NPP is not an Akan party."
Bawumia defeated three other candidates in the NPP flagbearer race, including Kennedy Agyapong, Owusu Afriyie Akoto, and Francis Addai-Nimoh.
He is the first non-Akan to lead the NPP into a general election since the party was founded in 1992.
Kodua urged all NPP members to rally behind Bawumia for victory in the 2024 general election.
"We must all come together to support Dr Bawumia and ensure that the NPP wins the 2024 election. This is a historic moment for our party."
Dr Bawumia defeated a field of three other candidates, including Kennedy Agyapong, the outspoken Assin Central MP, Dr Owusu Afriyie Akoto, a former Minister for Agriculture and former Mampong MP, Francis Addai-Nimoh.
Certified results announced by a deputy Commissioner of the Electoral Commission, Dr Serebour Quaicoe, revealed that Dr Bawumia polled 118210 votes representing 61.47% while his closest contender Mr Agyapong polled 71,996 votes representing 37.41%.
Dr. Afriyie Akoto who placed a distant third polled 1,459 votes representing 0.76% while Addai-Nimoh garnered a meagre 731 representing 0.41%.
A total of 192 446 delegates voted in Saturday's presidential primary. The total valid votes were 193, 346 with 900 votes rejected. Turn out was 94.63%.
Dr Bawumia was predicted from the start to win the presidential primary but he, however, failed to meet the target of 80% set by members of his campaign team.
Several MPs and Ministers threw their support behind Dr Bawumia who is a popular figure within the NPP.
The 2024 election is expected to be a close contest. Both Bawumia and Mahama are strong candidates, and they both have their strengths and weaknesses.
The outcome of the election will likely depend on several factors, including the state of the economy, the candidates' campaigns, and the turnout of voters.