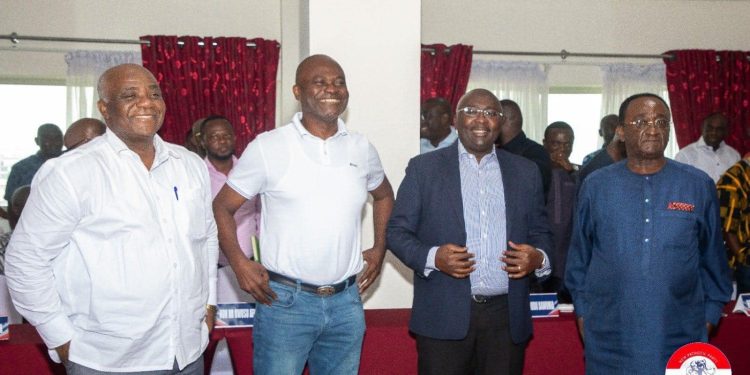 Delegates of the New Patriotic Party (NPP) from across the country went to the polls on Saturday, November 4, 2023, to determine who would become the party's flagbearer for the 2024 elections.
The candidates included Assin Central Member of Parliament (MP), Kennedy Agyapong, Vice President Dr. Mahamudu Bawumia, former Agric Minister, Dr. Owusu Afriyie Akoto, and Francis Addai-Nimoh, former Bantama MP.
Dr. Bawumia won the poll with 118,210 votes, representing 61.47, while his closest contender, Mr. Agyapong, received 71,996 votes, representing 37.41%.
Dr. Afriyie Akoto, who placed a distant third, received 1,459 votes, representing 0.76%, while Addai-Nimoh garnered a mere 781 votes, representing 0.38%.
Below are the provisional results from the regions:
| | | | | |
| --- | --- | --- | --- | --- |
| Region | Kennedy Agyapong | Dr. Mahamudu Bawumia | Dr. Owusu-Afriyie Akoto | Franicis Addai Nimoh |
| Bono East | 1548 | 5434 | 92 | 45 |
| Bono | 2326 | 3977 | 48 | 15 |
| Ahafo | 1040 | 2985 | 12 | 9 |
| Upper West | 1084 | 4,878 | 176 | 77 |
| Upper East | 2111 | 5218 | 190 | 95 |
| North East | 23 | 3444 | 5 | 2 |
| Northern | 1995 | 9238 | 172 | 77 |
| Savannah | 1028 | 2603 | 65 | 39 |
| Oti | 1311 | 3591 | 36 | 27 |
| Volta | 5845 | 4984 | 115 | 66 |
| Ashanti | 11390 | 22205 | 167 | 74 |
| Western | 4899 | 7465 | 91 | 43 |
| Western North | 2354 | 3386 | 29 | 8 |
| Eastern | 6794 | 13387 | 57 | 67 |
| Central | 10828 | 6159 | 47 | 38 |
| Greater Accra | 17282 | 19002 | 155 | 95 |
| NPP Headquarters | 133 | 254 | 2 | 4 |
| TOTAL | 71996 | 118210 | 1459 | 781 |
| PERCENTAGE | 37.41% | 61.47% | 0.76% | 0.38% |