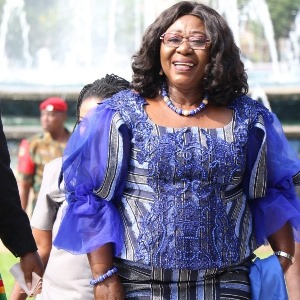 Akosua Frema Osei Opare, Ghana's Chief of Staff at the Presidency
The jostling for who can be an ideal running mate to Dr Mahamudu Bawumia, the recently elected flag-bearer of the New Patriotic Party (NPP) continues.
Many have been bandying names like Dr Mathew Opoku Prempeh, Joe Osei Wusu, Osei Kyei Mensah Bonsu and Yaw Osei Adutwum across political spaces.
This debate has been ongoing so that the Vice President and leader of the NPP could be attracted to either choose or take a closer look at them..
However, one name that stands out of the many names that are being mentioned is Akosua Frema Osei Opare, Ghana's current Chief of Staff at the Presidency.
Potentials and Interests:
Hon Akosua Frema Osei Opare is a known human development person and has trained and supported many youth in the country.
From 2004 to date, the Chief of Staff still supports the youth who desire to venture in various fields of endeavor and continues to bear their educational costs.
Those who learn trades and skills development get the opportunity to receive start-up capital from the humanitarian Chief of Staff.
Having an eye on the Youth, she is currently supporting the Youth Employment Agency with new modules as well as Human Empowerment programs and projects.
Stronghold:
Many political watchers see the Chief Of Staff as having both the competences and the temperament to handle the political office as running mate to Dr Mahamadu Bawumia due to the excellent manner she has handled the office of Chief Of Staff.
Some observers say Madam Opare's calm disposition and untainted character makes her ideal candidate to be considered as running mate.
Having a good control of speech and thought, some respondents in a vox pop conducted by this reporter said nothing can be said as a baggage for the Chief of staff except her good deeds and calming disposition, attributes many say makes her ideal.
Political Clout:
Hon Akosua Frema Osei Opare, an indigene of Wiamoase, a famous town in the Ashanti Region is the first female to have been chosen as Chief of staff in Ghana's political history in 2017.
Her second term mandate in 2021 as conferred on her by the President, Nana Addo Dankwa Akufo-Addo who also won the 2020 elections further cements her qualities as the highest ranking female politician ever in Ghana.
Having started her political life in 2004, Hon Frema won her first election when she contested the NPP Constituency primaries to become its parliamentary candidate.
She subsequently won to become the area's Member of Parliament in 2004 and in 2008 and 2012, the lady who is now considered as a complete humanitarian and philanthropic par excellence won to serve three terms in Parliament.
Academic Excellence:
Having pursued a Bsc in Home Economics at Legon, Hon Frema Osei Opare gained a Canadian scholarship to further her education in Guelph University in Canada where she was awarded Master of Science in Foods.
Subsequently, Madam Frema worked with the United Nations, Food and Agriculture Organisation and many other international organizations.
She also lectured and served as consultant at the Yambio Institute of Agriculture under the Government of the Republic of Sudan's USAID funded Southern Manpower Development Project.
Source: Ghana/otecfmghana.com