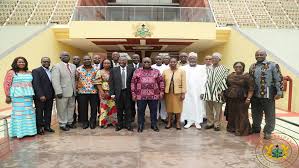 The Committee of Enquiry set to listen to petitions for the creation of new regions, will begin work on Tuesday, 21st November, 2017.
Under the chairmanship of former Supreme Court Judge, Justice Allan Brobbey, the Committee will first hear from petitioners from the Western region.
The carving of new regions was one of President Akufo Addo's campaign promises in the run up to the election in 2016. He is seeking to split the Northern, Western, Volta and the Brong-Ahafo Regions.
Minister for Regional Re-organisation, Dan told OTECNEWS'   Francis Appiah that, the regions must be able to convince the Committee for the creation of the region after which a referendum will be held.
Article 5/2 of the 1992 constitution grants the President the right to create new regions for development.
Because the constitution anticipated the creation of new regions, it clearly stated the procedure for such a constitutional provision.
Based on this, the President appointed Justice Allan Brobbey, a former Supreme Court judge to hear petitions for the creation of new regions.
The Committee is expected to begin hearing next week Tuesday with the Western Region to appear first.
Briefing the media in Accra, Regional Re-organization and Development Minister, Dan Botwe mentioned the order in which the regions will appear before the Committee.
Mr. Botwe outlined other activities of the Committee and when they are expected to submit their report.
The Committee which will hold its sittings at the Castle from Tuesday 21st November 2017 is opened to the public.
Source: otecfmghana.com/Francis Appaih