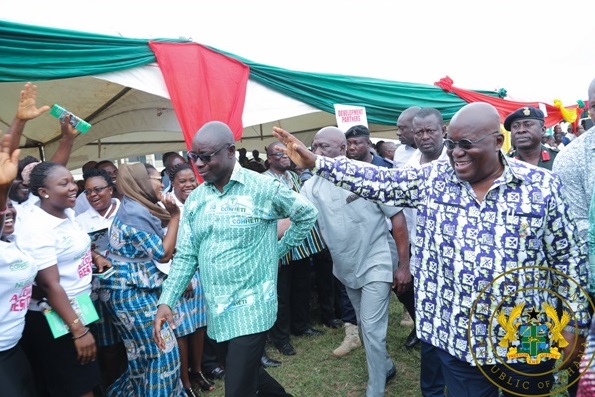 President Nana Addo Dankwa Akufo-Addo says but for the judicious application of resources, the National Health Insurance Scheme (NHIS) would have been strangled by debt
According to him, proper management of resources has heralded the revival of the NHIS and led to the payment of GH¢560 million out of the GH¢1.2 billion debt inherited from the Mahama administration.
Government, he added, is committed to paying the balance within the next 12 months, indicating that "in the meantime, payments to service providers in the NHIS are now current, with no arrears being built up."
The President was speaking at the Sunyani Nursing and Midwifery Training College on Tuesday, 10th September, 2017, when he made this known, at the restoration of the nursing and midwifery training allowances.
President Akufo-Addo added that it is the work of Ministers like Hon. Kwaku Agyemang Manu, and the brilliant, resourceful Minister for Finance, Ken Ofori-Atta, that is restoring the health of our public finances, leaving rapidly behind us the era of corruption, incompetence, mismanagement and profligacy that sent us cap in hand to the International Monetary Fund (IMF) for relief.
"We are going to make our public finances robust again, so we can pay our way in the world, like any self-respecting nation should," he added.
The President revealed that, within the short space of 9 months, Government has employed some 16,000 qualified young nurses and midwives and other health professionals, who, though qualified, had not found employment over the last few years.
Before the year ends, he assured further that additional nurses and midwives will be employed.
"Next year, we plan to employ even more healthcare workers. To your colleagues in private nursing and midwifery training institutions, who have been at home for a number of years, next year our healthcare institutions will begin recruiting them," he added.
The aim of his government, he stressed, "is to banish the spectre of nurses, midwives and health assistants who are not posted after completion of their courses."
Source: otecfmghana.com