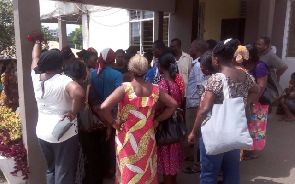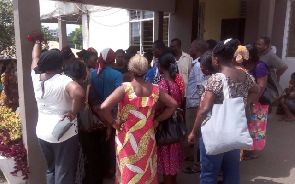 The traders complained they are laughed at by their colleagues in the opposition NDC
Some aggrieved traders at the Kumasi Central Market today [Friday], besieged the offices of the Kumasi Metropolitan Assembly to demand the reopening of their shops.
They have given the Assembly a 12-hour ultimatum to reopen the shops or face their wrath.
Otecfmhana.com  gathered that, 15 shops in the Central Market, were closed on Thursday, following a misunderstanding between revenue collectors of the KMA and the owners of the shops over the payment of daily tolls.
Some of the traders said the Assembly was charging them GHS 2.00 as market toll each day, instead of an agreed amount of 50 pesewas.
Maame Anima, one of the affected women, told Otecfmhana.com  that they had agreed to pay GHS 1.00 as daily market toll, after a meeting with the heads of the Assembly, but the revenue collectors insisted on taking GHc 2.00 when they went round the stalls on Thursday.
She explained that, one of the revenue collectors physically assaulted a market woman after she refused to pay the GHS 2.00, insisting they had agreed to Ghc 1.00 at a previous meeting.
But the Kumasi Mayor, Osei Assibey Antwi, has discounted claims that the market women are being charged Ghc. 2.00 as market toll.
According to him, the charge is GHS 1.00, and that has been the amount set by the assembly some five years ago, but came into effect in October 2017.
"KMA has not increased the fee. The fee was fixed more than 5 years ago, but we have now enforced it so we have not increased it. The fee as at the time of Kojo Bonsu, was when the KMA allowed the fee increase of Ghc1.00, but the market leaders pleaded that we give them a moratorium until 2017, and that is exactly what we are doing now," he told Otecfmhana.com.
Source: otecfmghana.com/ Simon Opoku  Afriyie