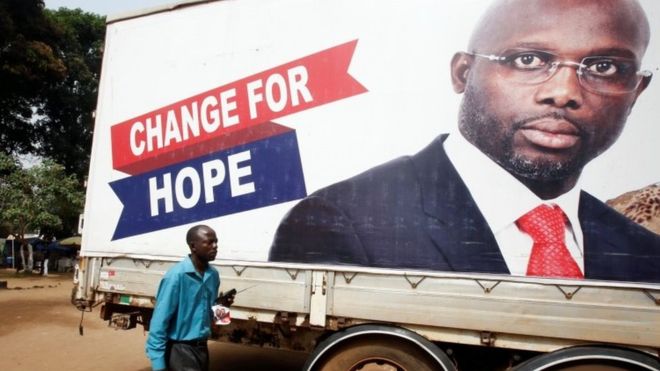 Former footballer George Weah is set to become Liberia's president following Tuesday's run-off election.
The National Elections Commission said that with 98.1% of ballots counted, Mr Weah of the Coalition for Democratic Change had won 61.5% of the vote.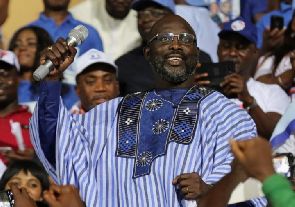 Opponent Joseph Boakai is far behind with 38.5%.
Mr Weah, 51, will succeed Ellen Johnson Sirleaf, Africa's first elected female president, in Liberia's first democratic handover since 1944.
As news of Mr Weah's victory emerged on Thursday, his supporters began celebrating in the capital Monrovia.
Who is George Weah?
When sports stars make a run at politics
He won the first round in October with 38.4% of the vote, compared with the 28.8% of Mr Boakai, 73. His failure to secure an outright majority forced a run-off.
Mr Weah played for a string of football clubs, including AC Milan, Chelsea and Paris St-Germain, and is the only African footballer to have won Fifa World Player of the Year and the coveted Ballon D'Or, in 1995.
He entered politics after his retirement in 2002 and is currently a senator in Liberia's parliament.
Liberia, founded by freed US slaves in the 19th Century, has not had a smooth transfer of power from one elected president to another in more than 70 years.
Mrs Sirleaf defeated Mr Weah in the presidential election run-off in 2005, after the end of a brutal civil war.
Legal challenges delayed the vote to replace Ms Sirleaf, and turnout was low. Election officials put turnout at 56% with most votes counted.
More than two million people were eligible to cast their ballots in the nation of 4.6 million people.
Ms Sirleaf took office in 2006, after her predecessor, Charles Taylor, was forced out by rebels in 2003, ending a long civil war.
Taylor is serving a 50-year prison sentence in the UK for war crimes related to the conflict in neighbouring Sierra Leone.
Source: bbc