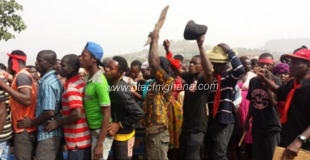 The Asante Youth Association (AYA) has threatened to go to the aid of their brothers and sisters, and help them get rid of the Fulani herdsmen at Agogo in the Asante Akyim North District of the Ashanti region through whatever means possible if the government fails to bring a lasting solution to the problem within 30 days.
The Youth said they will not sit idly by and watch their brothers and sisters get slaughtered and raped for protecting their farms and lands.
In a press release signed by the president of the association Nana Yaw Brenya, it said the deeds of the Fulani herdsmen on that tenement are vicious and treacherous by any stretch of the imagination, and it is heart-wrenching to see lives, livelihoods, investments, and savings lost to the activities of some selfish and ruthless lot in the name of farming.
"They have been raping, maiming and killing the indigenes with reckless abandon. All governments have been keeping cold-feet in dealing with the menace decisively and convincingly, so its hard we AYA stand up and fight for our brothers and sisters in Agogo," the release said.
"AYA, is, therefore, reminding and urging the government to implement the court ruling in 2012 ordering the entire herd to vacate the land at the Asante Akyim Agogo. They have been raping, maiming and killing the indigenes with reckless abandon, we do not need them (Fulani) there again," it added.
In the respect of the rule of law "this level of patience has been established from the time of the ruling until now, however the shooting incidence that occurred in Agogo in recent days which injured some army officers is telling us a different and sordid story that, Government may not be able to fight this Fulani menace after all," it bemoaned.
Source: otecfmghana.com/ Francis Appiah