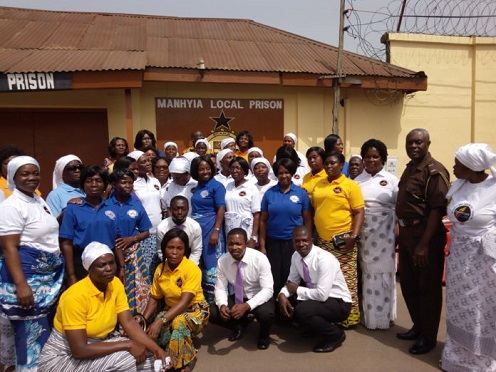 The inmates of Manhyia Local Prisons in Kumasi also have their share of the Christmas celebrations when they wined and dined with the Women's Ministry of Ashanti Central Ghana Conference of Seventh Day Adventist Church (SDA) on Saturday, December 30, 2017, at the prison's yard.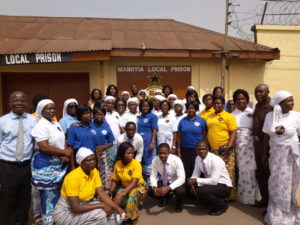 They were served with rice and chicken, bottled water and soft drinks, with an estimated cost of GH.3, 000.
The programme, which was attended by the President of the Ashanti Central Ghana Conference of SDA, Pastor Akwasi Boateng and other Pastors of the SDA, saw the inmates, officers of the Prisons and other pastors, singing and dancing to the glory of God.
Speaking in an interview with Otec news' Kwaku Anane Jnr. after the programme, the Director of Women's Ministry of Ashanti Central Ghana Conference of SDA, Madam Lydia Akua Akuoko said it is part of their yearly plans of feeding prison inmates, and celebrating the end of the year with the Manhyia Local Prisons is not by chance.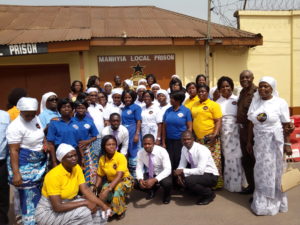 "As the year is coming to an end, you see a lot of people eating and making merry. These people are left alone so we took it upon ourselves as Christians to show passion to these people as they are also human beings. We are happy that they are happy today," she added.
Madam Fokuo appealed to the Inmates to take advantage of vocations offered in the prison's yard to learn something to secure a better future when they are released, in order not to find themselves wanting.
"As you go out from here, there is no work waiting for you outside, so please learn something here, like carpentry, basket weaving, masonry among others. Nobody is charging you, its free, so if you are equipped with these skills, you can earn something decent to live on when you go out," she said.
The Chaplain for Manhyia Local Prisons, Rev. A.C.O Amo Mensah expressed his gratitude to the Women's Ministry and appealed to the general public to emulate the kind gesture.
He also appealed the public to extend a warm welcome to the inmates when they are released but not to stigmatize and discriminate against them, to make them feel at home.
Source: otecfmghana.com/Kwaku Anane Jnr