The  late 5 year old KG1 pupil, Silas Kunsana
The family of the five year old boy, Silas Kensuna, who was beheaded on Wednesday March 7, 2018, at Sokoban, a suburb of Kumasi by two young people to be sold to spiritualist has appealed the Ashanti regional Police Command to release the body for burial.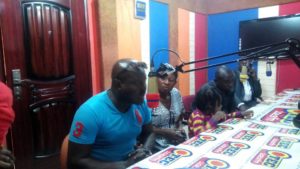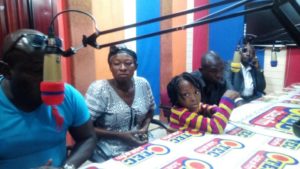 According them delay of their son's burial will not only increase the fees of the body at the mortuary but will also make them grieve more, especially from the mother and the deceased twin sister, as long as the body remains at the mortuary.
Two suspects, Vikuriba Joe, 21 who hails from Tongo and his accomplice Kozel Borama, 25, who are currently in the custody of the police for their involvement in the act, offered to sell the head for GHc 2,500 to a mallam at Sokoban Ampeyoo also in the metropolis.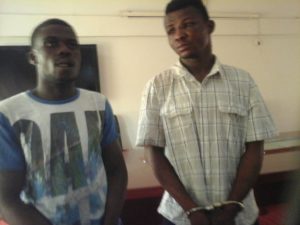 The Suspects
The Mallam later tipped off the police who led to their arrest and subsequent retrieval of the lifeless body of Silas Kunsana at an uncompleted building.
The father of the deceased, Kwasi Kunsana, made the appeal at the premises of Otec FM, a private radio station in Kumasi, on Monday March 12, 2018, when the management of the company presented an undisclosed amount of money to the deceased family to assist them to foot the medical bills.
"Am very grateful to the management of Otec FM, this money will go a long to assist us to pay for charge needed by the doctors at KATH to perform the autopsy of our son. I am therefore appealing to the Ashanti Regional Police to release the body to us quickly for burial so that the grieving, especially from the mother and her twin sister will be minimized," he appealed.
Presenting the donation on behalf of the management, the host of Otec FM's afternoon show "Asem Beba Dabi", Nana Yaw Krobea Asante, expressed their deepest condolences to the family and hoped their "widow's mite" will assist them to defray some of the hospital costs.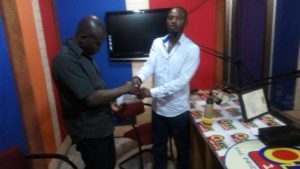 Nana Yaw Krobea Asante Presenting cash  donation to the victim's father
"On behalf of the management Otec FM, expressed our deepest condolences to the bereaved family. We know it's not easy to lose a child you loved and cherished so much but please take heart and remain focus on how to give a proper burial to your royal. Though we don't have much, we believe our small cash donation will assist you in dealing with the hospital bill," he sympathized.
The donation was in response to an appealed made by the family to the general public to assist them to pay for the fees charged by the authorities of the Komfo Anokye Teaching Hospital (KATH), since the fees charged are beyond their reached.
Source: otecfmghana.com/ Agya Sam